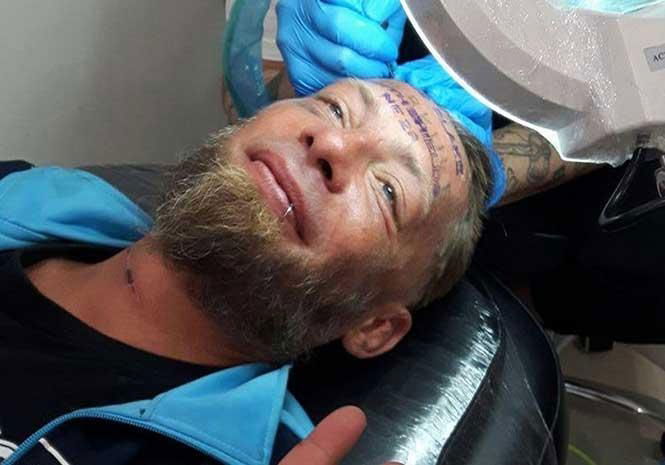 CARING Brits are raising cash to pay for the removal of a tattoo from a 'vulnerable' man that a Benidorm stag do paid to have done.
The stag group visiting the holiday hotspot paid the man, believed to be Polish and homeless, £90 to have "Jamie Blake, North Shields, N28" tattooed on his forehead.
The tattoo parlour that did the inking initially shared the snap of their work on their Facebook page but quickly deleted it.
And after an uproar over the ethics of the tattoo parlour that did the inking a group of Brits has set up a crowd-funding page to pay for Tomek to have the tattoo removed.
Karen Maling Cowles, president of the Benidorm British Business Association, said, "It was NOT any of the British tattoo studios here.
"At RKA Tattoos we will be collecting money for Tomek to have his tattoo removed and help pay for any immediate needs he has."
Karen has also set up a Go Fund Me page to help raise €3,000 to have the tattoo removed from Tomek's face and 'receive medical help he much needs.'
Karen said, "What they have done to this man is utterly inhuman'
Donating on the page Anne Dettmer said, "I hope this helps him towards a better future and reassures him that humanity does exist."
Maureen Jelly added, "I hope it helps I am so disappointed with my fellow human beings sometimes."
In the thirteen hours since the appeal was launched €365 of the target has been donated.
To contribute to the fund please go to: https://www.gofundme.com/zh7dp-homeless-man
RELATED STORY:
Brits rally in Benidorm after stag party pay 'vulnerable' man for tattoo of groom's name on forehead