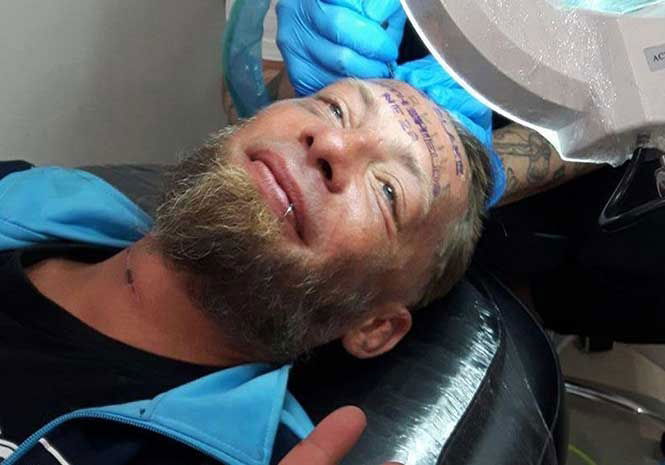 THE Costa Blanca community is livid after a party of lads on a stag do in Benidorm paid a 'vulnerable' man £90 to have the groom's name tattooed on his forehead.
The stag group in the holiday hotspot paid for the man, believed to be Polish and homeless to have "Jamie Blake, North Shields, N28" tattooed on his forehead.
The tattoo parlour that did the inking initially shared the snap of their work on their Facebook page but quickly deleted it.
One follower on their page said they displayed a "shocking lack of ethics".
But the Brits and other nationalities are rallying around the help man who was reported to be in incredible pain after the tattoo.
On Facebook, Karen Maling Cowles said, "Can I say it was NOT any of the British tattoo studios here.
"At RKA Tattoos we will be collecting money for Tomek to have his tattoo removed and help pay for any immediate needs he has."
Chris Haslam said, "The tattooist needs reporting. He's as guilty as the others if not more so. Probably don't need a licence but needs shutting down."
"If this is a licensed professional tattooist he should be struck off," added Elaine Lowes.
Darren Arthur questioned, "Whatever was the tattooist thinking to even entertain permanently marking someone in this way?"
Josie Lindop chipped in, "Shame on the tattooist that did it… Disgusting behaviour…"
"The people should be named and shamed, absolutely awful taking advantage of a vulnerable person, sad times we live in, added Laura Taylor.
And Dawn Winter asked, "Why are people so cruel to the homeless. It boils my blood."
Millionaire businessman Duncan Bannatyne has also shared the story on Twitter and said: "Does anybody know this groom or his mates. Can we name and shame them? This is disgusting."
RELATED:
BENIDORM STAG DO TATTOO: Costa community fund-raises to erase controversial inking on 'vulnerable' man