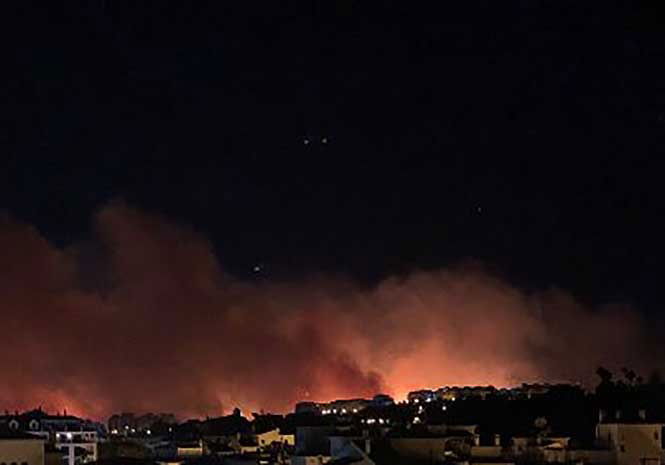 A HUGE wildfire has broken out on the Costa del Sol this morning with flames being fanned by strong winds.
First reports indicate that the blaze, near Manilva, is the area of Los Hidalgos, Hacienda Guadalupe and El Goleto urbanisations and the campsites in the Duquesa area.
Some urbanisations have been evacuated and the A-7 remains closed in both directions between 140-142 km because of the smoke.
The 
As well as the INFOCA wildfire specialists fire crews have been drafted in from Manilva, Estepona, Coin and the Algatocin in the Serrania de Ronda.
Helicopters have joined the efforts to bring the blaze under control this morning now that daylight allows them to safely fly.
A worried mother, whose daughter lives in the area, told the Euro Weekly News this morning, "Apparently now the worst over but still burning up in the hills.
"I think my daughter's apartment and car are OK but it went right up to her apartment block.
"My concern was the petrol station which is just in front of her place.
"Everyone will have a lot of mess to clear up today."
There is speculation among local residents that a firework from a fiesta in Manilva sparked the blaze.
UPDATE:
IN PICTURES: Costa del Sol wildfire 'stabilised' after 400 people evacuated THIS MORNING
[7:30h] ACTIVO #IFManilva #Málaga a causa del incendio hay desalojadas 400 personas y sigue cortada al tráfico la #A7 entre los kilómetros 140 y 142
Evite la zona y sigua indicaciones de @guardiacivil y personal del operativo
Cuenta oficial: @Plan_INFOCA#IIFF pic.twitter.com/obw01BbD3k

— El Batefuegos (@El_Batefuegos) July 30, 2018
Trabajando en incendio Manilva #IFManilva #cpbmalaga pic.twitter.com/lfik0fpXRK

— Antonio Moreno (@Antonioalhaurin) July 30, 2018
#IFManilva CORTE EN AMBOS SENTIDOS en #A7 (pk 142 al 140 creciente) MANILVA
Sigua las indicaciones de @guardiacivil#DGTMálaga #DGT https://t.co/eTOcNPxEV8@InformacionDGT pic.twitter.com/HMx1SKnPr6

— El Batefuegos (@El_Batefuegos) July 30, 2018
Buenos días, empezamos la semana muy pendientes del incendio que está afectando a Manilva, esperando que amanezca para que los medios aéreos de @Plan_INFOCA puedan actuar. #IFMANILVA Precaución, Informan de cortes en la A7 según la web @DGT pic.twitter.com/lu0KID1uMr

— REMER MÁLAGA (@RemerMalaga) July 30, 2018
DECLARADO #IFManilva, #Málaga. 40 #Bomberosforestales, 1 técnico de operaciones, 2 agentes de medio ambiente y 2 autobombas.

— INFOCA (@Plan_INFOCA) July 30, 2018
Activamos equipo de emergencias para prestar atención a personas desalojadas de incendio forestal #IFManilva @CRE_Emergencias

— Cruz Roja Málaga (@CREMalaga) July 30, 2018
#IFManilva @MalagaJunta activa el #nivel1 del Plan de Emergencias por incendios forestales en #Málaga por un fuego en #Manilva. Desalojadas unas 400 personas de manera preventiva y cortada la A7 entre los kms 140 a 142 @Plan_INFOCA pic.twitter.com/PPaTNGNKNa

— Emergencias 112 (@E112Andalucia) July 30, 2018