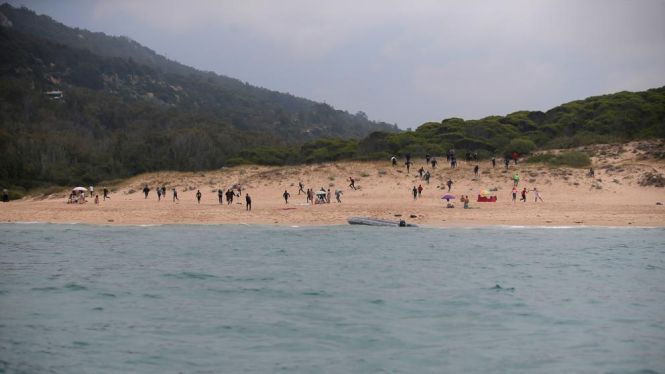 NUDE sunbathers were left stunned after a dinghy carrying dozens of African migrants landed on a packed Cadiz beach before sprinting across the sand into the surrounding forest.
The dramatic incident, which saw their boat hit the sand ahead of a pursuing Guardia Civil launch, took place on Del Cañuela beach near Bolonia in Tarifa.
And the migrants escaped after racing past groups of baffled nudists in the wake of crossing the Strait of Gibraltar from Morocco.
Less than 24 hours later, a second dinghy stormed Zahora beach in nearby Barbate as hundreds of confused sun-seekers looked on.
The news comes after Jose Ignacio Landaluce, mayor of port city Algeciras, warned that the area is at the centre of a "new migrant crisis" after 1,000 people arrived in the last week alone.
He added the Strait is in danger of becoming "the new Lampedusa," referring to an Italian island which has seen its tourist income slashed after being swamped by migrants.
"I hope the EU is working on a global policy on this: it may be our problem initially, but tomorrow, or in a week's time, or a month's, it will be at the heart of Europe," he said. "We've never, ever, ever had 1,000 migrants arriving in Spain each weekend. And all this could just be for starters.
"There's a lot of the summer left and there are thousands and thousands of migrants arriving on the coasts of north Africa and thousands and thousands more who have been waiting to cross for months or years.
"We have to talk about what we are going to do with the people who arrive to our shores so that our area does not become the new Lampedusa of the Western Mediterranean.
"This is not the mayor of Algeciras' or the Spanish Interior Ministry's problem, it is an EU matter."
The official explained many of the most recent arrivals have been forced to sleep on floors with no bedding on boats or in police cells because "we do not have enough money or enough beds" to cope since "everything is overcrowded."
Spain has recently become the preferred entry point for sub-Saharan Africans trying to reach Europe after Italy's new interior minister Matteo Salvini banned rescue ships from entering his country's ports.
Around 1,600 have arrived in the past six days, and on Thursday more than 700 migrants armed with homemade weapons stormed a border fence in the Spanish enclave of Ceuta.
[iframe width="560″ height="315″ src="https://www.youtube.com/embed/uv98dVhvJSI" frameborder="0″ allow="autoplay; encrypted-media" allowfullscreen ]