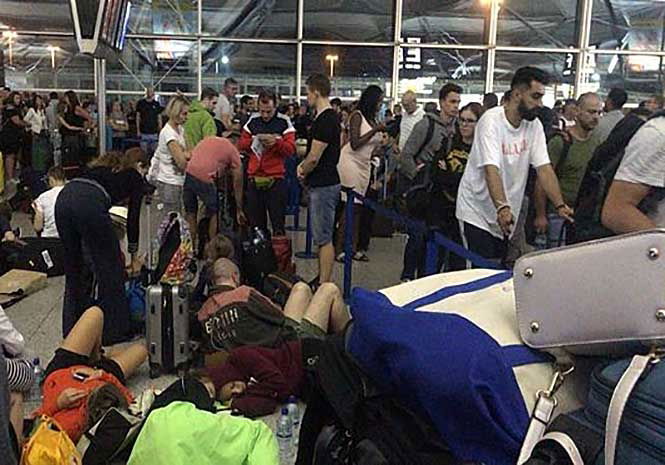 AIR PASSENGERS in the UK are still facing long delays today (Saturday) as several major airports have been impacted after thunderstorms forced some planes to be grounded.
London Heathrow, Gatwick, Luton and Manchester Airports are all experiencing delays.
But worst affected is London Stansted where passenger Niklas Nygaard tweeted that 'children were sleeping on their bags on the floor' as they waited for their flights.
An airport spokesperson said, "Air traffic control put restrictions in place due to the storms. It affects everyone."
NATS, the UK's air traffic control service, had been due to handle 8,841 flights in 24 hours.
And this morning Gatwick Airport has tweeted, "Adverse weather across Europe is affecting flights in and outbound from Gatwick Airport, this may result in delays and cancellations. Please contact your airline for specific flight information before you travel to the airport."
Passeneger Samira Shackle tweeted, "Stuck on a plane at Gatwick – it landed nearly an hour ago but there's no gate free "due to weather conditions" which from where I'm sitting look like drizzle. Literally a few hot weeks and Britain has forgotten how to cope with rain?"
A statement from NATS said: "The Met Office has issued a yellow warning for thunderstorm activity across London and the East of England, with flights likely to be adversely affected.
"NATS is working closely with the airports and airlines to ensure safety and to continue providing the most efficient operation possible during this adverse weather period.
"Dealing with bad weather is one of the most difficult things for air traffic controllers to manage. Its unpredictable nature means aircraft aren't able to fly their usual routes, resulting in unusual flight patterns.
"Thunderstorms are particularly disruptive as they effectively block large swathes of airspace because aircraft can't fly through them.
"Passengers are advised to contact their airline for the latest information on their flight."