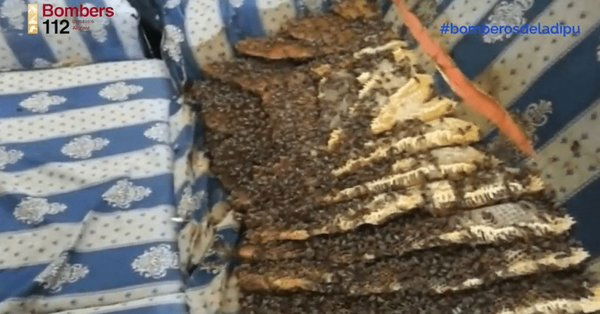 FIREMEN were 'stung' into action when a holidaying family found a swarm of bees had moved into a patio sofa and were now living in a honeycomb weighing 25 kilos.
The family from Madrid had arrived at their Torrevieja holiday home only to be confronted by the buzzing of thousands of bees.
It would have been a frightening sight at the best of times, but as one member of the family is allergic to bee stings they made a hasty retreat and called in the fire service.
The house had not been used since last summer, so the insects had plenty of time to make their hive inside the sofa without being disturbed.
It turns out that Torrevieja firefighters are made of stern stuff – and well equipped too. Instead of calling for the services of a beekeeper they pulled out their own apiculturist kit and took the swarm on.
Apparently it is not an unusual occurrence and the firemen have been trained in what to do.
First they find the queen and put her in a special box. The other bees then follow her little by little until the entire swarm is in the box, which is then closed.
They were then taken to a local beekeeper to be re-homed.
¡ATENTOS A LA HISTORIA!
Familia con chalet en Torrevieja. Llevan un año sin ir y vuelven por vacaciones…. Al llegar se dan cuenta que les ha robado en casa y encuentran esto en su sofá….. llaman coriendo a los #bomberosdelaDipu
???? pic.twitter.com/LhfZipvJjb

— Bomberos de Dipu ALC (@BomberosDipuALC) July 27, 2018
Credit: @BomberosDipuALC Twitter