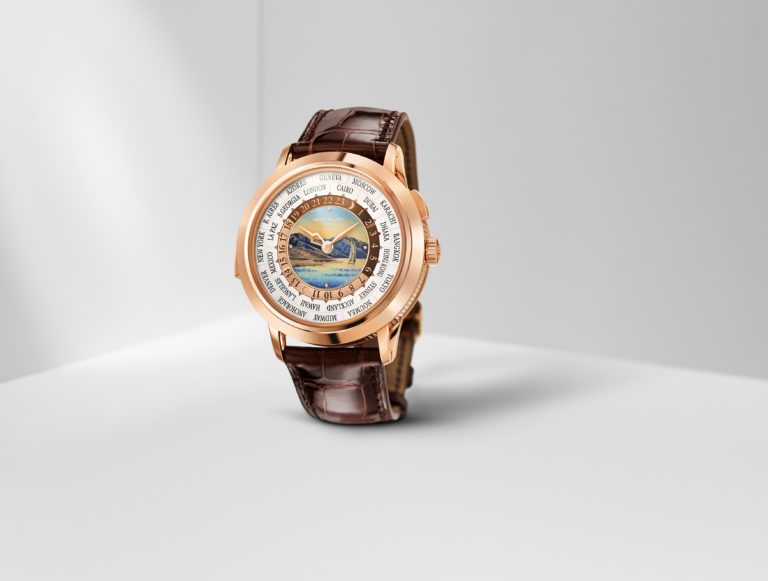 MINUTE Repeaters and the World Time function have played a pivotal role in the portfolio of Patek Philippe's complicated time pieces.
The repeater is a complication in a mechanical watch or clock that audibly chimes the hours and often minutes at the press of a button. With its chiming watches the Geneva manufacture has defined the benchmark for decades with their exceptional acoustic quality. Patek's World Time watches with cloisonné enamelled dials are legendary too; they are among the most coveted timepieces at auctions worldwide.
In the Ref. 5531 World Time Minute Repeater, the engineers in Geneva merged these two complications for the first time in Patek Philippe's history and in an unprecedented manner: the time is always struck as indicated by the hour and minute hands for the time zone represented by the city aligned with the 12 o'clock position. In short the Repeater chimes the time accurately to the second at its current actual location. The select owners of a World Time Repeater want to see the time in all 24 time zones of the world at a glance. Now for the first time in horological history time is sounded acoustically and simultaneously. Hitherto minute repeaters with the World Time function were only able to chime home time as previously defined with the crown because the two complications operated independently from one another. An acoustic local time indication requires the World Time mechanism display to be mechanically coupled with the chiming mechanism.
Two highly complicated mechanisms merged and contained within a volume just 8.5 millimetres high and barely 32 millimetres across consisting of 462 precise components and 45 jewels. The 18 carat gold case is fitted with a crystal sapphire crystal display back as a show window to view the watchmaking artistry revealing the chamfered bridges with Geneva striping , the guilloched mini rotor in 22 carat gold and the gold plated Calatrava cross cover on the centrifugal governor of the chiming mechanism. The view is unforgettable.
The Central European time zone is represented not by Paris but rather by Geneva on the city disk to emphasise the Lac Leman theme of the dial as was already the case with Patek Philippe's World Time watches introduced to mark the 175th anniversary of manufacture in 2014. A small work of art occupies the centre of the dial. A cloisonné enamel depiction the Lavaux wine growing region with a lateen rigged boat that has set sail. The enameller requires two weeks to complete each miniature work of art.
Just 10 World Time Minute Repeaters will be manufactured, attached to the wrist with straps of alligator leather, hand stitched, chocolate brown and with a fold over 18 carat gold clasp. POA.