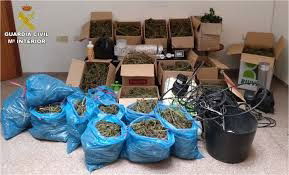 MEMBERS of a family that allegedly ran a marihuana growing operation from their attic are facing justice because they couldn't resist making extra money from short term rentals.
The house in Los Montesinos was advertised on a website to be let by the day, with the tenants told not to go into the loft, which was kept locked.
However, the 46-year –old woman owner and her two sons, aged 24 and 28, hadn't counted on the pungent smell of the weed emanating from the room.
One tenant certainly noticed it – on finishing his rental period he promptly went along to Guardia Civil to report the matter.
On raiding the premises, officers found 34 kilos of dried marihuana with an estimated street value of €136,500, as well as scales, flower pots, fertiliser and drip irrigation systems.
The woman has been released on charges, while the two men have been remanded in custody.