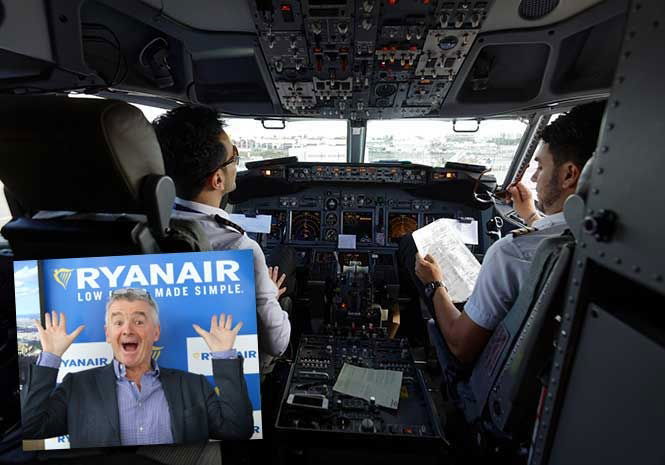 RYANAIR pilots in Ireland have announced they will strike again on one of busiest days of summer – unless their demands are met by the airline.
Members of the Irish Airline Pilots' Association (IALPA) have warned that further strikes could take place unless Ryanair's management "change tack and negotiate in good faith on the issue of base transfers and related matters."
The news comes as the low-cost airline announced it will be cutting its Dubin-based fleet by 20 per cent, from 30 to 24 aircraft, for the winter 2018 season.
The airline says the decision was taken after the rapid growth of its base in Poland which will now have its aircraft numbers doubled.
IALPA tweeted: "Ryanair members to strike on 3 August. The company's action today is reckless, unnecessary and designed to intimidate our members."
The British Airline Pilots' Association (BALPA) also took to Twitter to criticise Ryanair's Dublin fleet announcement.
"This is extremely regrettable. The accompanying job losses could look to Irish pilots and other people like a punishment for participation in strike action."
The budget airline has been hit hard this week with a huge number of flights cancelled due to a third strike by some of their Irish pilots and a cabin crew strike in Spain, Portugal and Belgium yesterday (Wednesday) and today.
Ryanair revealed on Twitter that they expect no more than 20 of their 290 Irish flights next Friday to be cancelled and tweeted, "FORSA has rejected our offer to meet today to brief them on the planned aircraft (6) and job (300) cuts in Dublin from October.
FORSA is Ireland's largest public service union.
"FORSA's only response to 300 job losses is to call a fourth pilot strike next Fri (3 August).
"We will contact affected customers on Thursday 26 July but we expect no more than 20 of our 290 Irish flights next Friday to be cancelled.
"We've told FORSA that there will be no more meetings while they hold strikes. If they wish to meet after next Friday's strike, then we will do so here at our offices, but not if more strikes are called.
"We are finalising our plans for up to 100 pilot and 200 cabin crew employee job cuts. These numbers may increase if FORSA strikes cause more damage to our Irish business."
The Civil Aviation Authority has urged passengers to claim compensation over cancelled strike-hit Ryanair flights under the EU261 European air passengers' rights rules.
A spokesperson for the organisation said: "When a flight cancellation is caused by strike action by the airline's employees, the airline is required to pay compensation to passengers in respect of the cancellation of the flight, if it has not warned passengers of the cancellation at least two weeks prior to the scheduled time of departure.
The CAA is telling passengers initially to submit their claim to the airline but if they are not satisfied with the response, they can seek redress via the approved Alternative Dispute Resolution service.
Compensation is set at €250 (£223) for flights of up to 1,500km, and €400 (£357) for longer flights in Europe and North Africa.
@IALPA Ryanair members to strike on 3 August.

The company's action today is reckless, unnecessary and designed to intimidate our members. @eu_cockpit @IFALPA@WeAreALPA @forsa_union_ie @itfaviation @etfaviation
https://t.co/Q8osiuBiVm via @rte

— IALPA (@IALPA) July 25, 2018
This is extremely regrettable. The accompanying job losses could look to Irish pilots and other people like a punishment for participation in strike action. This does not give a good impression and is likely further to inflame the situation.https://t.co/fJ1tf0FeHQ

— BALPA (@BALPApilots) July 25, 2018
100 #Ryanair pilots on strike in Dublin, 100 pilot jobs in #Dublin threatened – a striking coincidence! https://t.co/4KMF6usl0q pic.twitter.com/iWgU8onnQ2

— EuropeanPilots ECA (@eu_cockpit) July 26, 2018
FORSA has rejected our offer to meet today to brief them on the planned aircraft (6) and job (300) cuts in Dublin from October: pic.twitter.com/IxEk83Lmm8

— Ryanair (@Ryanair) July 25, 2018