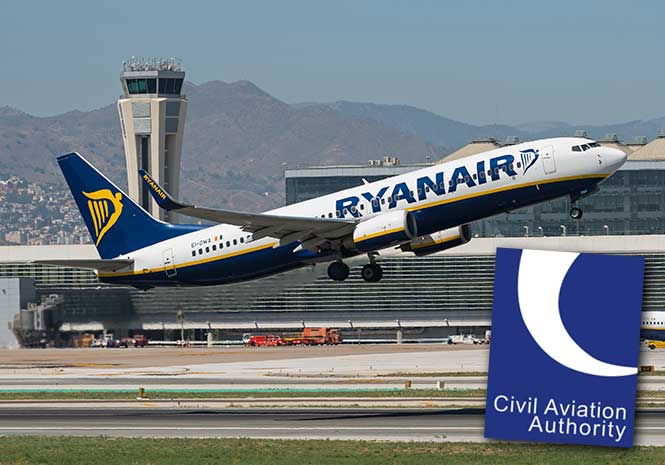 THE UK's Civil Aviation Authority has urged passengers affected by the Ryanair flight cancellations due to strikes to claim compensation from the airline.
Three recent strikes by some of Ryanair's Irish pilots and a cabin crew strike by staff in Belgium, Portugal and Spain today (Wednesday) and tomorrow has resulted in cancelled flights for more than 100,000 passengers.
Ryanair has cancelled up to 300 of 2,400 daily flights on each of the days 'to minimise disruption to customers from strike action by some cabin crew'.
The CAA has issued a statement urging affected flyers to claim their entitlement under the EU261 European air passengers' rights rules and said some passengers could claim up to €400 (£357) each.
A spokesperson for the organisation said: "When a flight cancellation is caused by strike action by the airline's employees, the airline is required to pay compensation to passengers in respect of the cancellation of the flight, if it has not warned passengers of the cancellation at least two weeks prior to the scheduled time of departure.
It added that Ryanair told its customers no more than eight days ahead.
The CAA is telling passengers initially to submit their claim to the airline but if they are not satisfied with the response, they can seek redress via the approved Alternative Dispute Resolution service.
Compensation is set at €250 (£223) for flights of up to 1,500km, and €400 (£357) for longer flights in Europe and North Africa.
Ryanair immediately said it would reject any claims.
The airline said it "fully complies with all EU261 legislation" but added, "As these flight cancellations were caused by extraordinary circumstances, no compensation is due.
"Under EU261 legislation, no compensation is payable when the union is acting unreasonably and totally beyond the airline's control."
The European Court of Justice recently ruled that a wildcat strike was not a justifiable excuse for not paying.
But airlines maintain that strikes qualify as "extraordinary circumstances" and therefore are exempt from the EU compensation rules.
Air France and British Airways have also declined paying compensation to passengers whose flights are cancelled by industrial action.