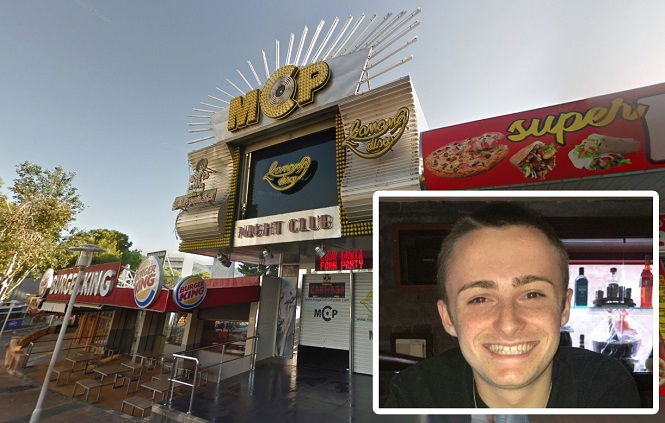 A BRITISH teenager could lose his sight after his eyes were "split in two" by a paint gun spraying revellers at a Magaluf nightclub.
Dillon Connery, 18, was found on the floor after being shot in the face by a stage-mounted gun at the Carwash Club.
Spanish medics are battling to save the cyber security firm trainee from Paisley's eyes in the wake of the horror accident, which happened just hours after he arrived to Mallorca with six pals.
He has already undergone a series of operations in Spain and flown back to Glasgow for more treatment at Gartnavel Hospital.
His mum Ashleigh Connery, 42, said his eyes have been "obliterated and destroyed."
She added: "We're devastated. His eyes have been destroyed.
"Dillon has been left in an incredible amount of pain. He had a very bright future and now everything has changed."
She told Scottish broadcaster STV: "The paint party had involved a 'hand-made weapon' which went full pelt and close range into the teenager's eyes 'like a nutshell.'
"His friends went to the bar and Dylan was by himself for five minutes. His eyes have been shattered.
"The surgeon was very upset and had never seen anything like this before. The translator had said his eyes had been obliterated and destroyed."
He was reportedly hit with a stream of paint at point blank range while on a night out at Carwash.
The nightspot's website says of the Paint Glow Party: "Imagine a packed dance floor waiting in anticipation for one thing and one thing only…..to be covered head to toe in paint, UV paint!
"By far the messiest of all our events, we recommend you save your favourite dress or 'pulling shirt' for another night.
"Don't worry though we have boiler suits and goggles available to purchase at the club which just add to the whole crazy experience."
Spanish investigators are probing the incident, police confirmed in a statement.