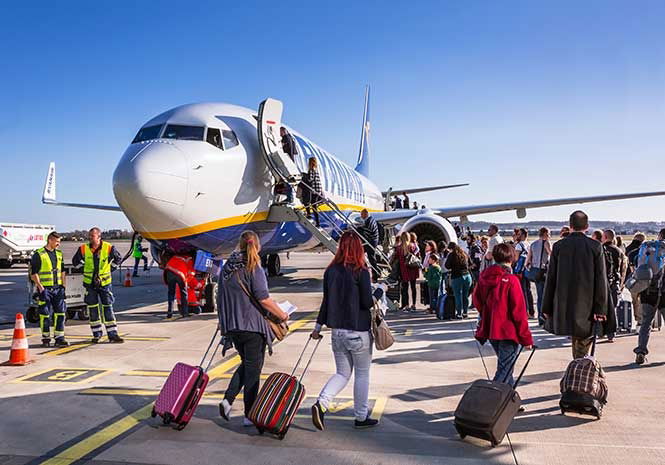 PROFITS at the low-cost Irish airline, Ryanair, have nose-dived 20% to €319million in the first quarter of their 2018/9 financial year.
Lower fares, the absence of half of Easter in the quarter, higher oil prices and pilot costs have all been blamed for the drop.
However, the airline reaffirmed its forecast for profit for the year to be between €1.25 and €1.35 billion, although down from a record €1.45 billion in the year to March 31.
Ryanair said traffic grew 7 per cent to 37.6million, despite over 2,500 flight cancellations caused by air traffic control staff shortages and strikes.
The carrier said fares could drop during its key summer period due to high competition, unusually hot weather in Northern Europe and uncertainty caused by a series of strikes.
Ancillary revenue, including reserved seating and priority boarding services accounted for 30% of total revenue in the first quarter.
But EU-261 "right-to-care" costs jumped 40% in due to over 2,500 air traffic control flight cancellations.
The airline said, "While we continue to actively engage with pilot and cabin crew unions across Europe, we expect further strikes over the peak summer period as we are not prepared to concede to unreasonable demands that will compromise either our low fares or our highly efficient model.
"If these unnecessary strikes continue to damage customer confidence and forward prices/yields in certain country markets then we will have to review our winter schedule, which may lead to fleet reductions at disrupted bases and job losses in markets where competitor employees are interfering in our negotiations with our people and their unions."
The statement went on, "We remain concerned by the danger of a hard (no-deal) Brexit in March 2019.
"While there is a view that a 21-month transition agreement from March 2019 to December 2020 will be implemented (and extended), recent events in the UK political sphere have added to this uncertainty, and we believe that the risk of a hard Brexit is being underestimated."