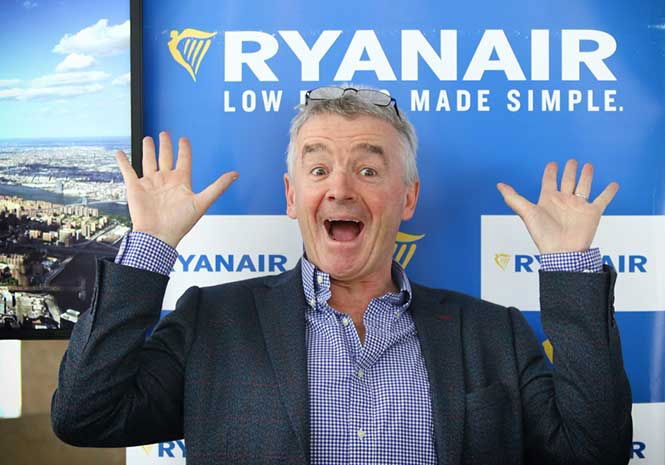 RYANAIR passengers are bracing themselves for a turbulent week as strikes by Irish pilots and cabin crew have led to the cancellation of hundreds of flights across Europe.
Tomorrow (Tuesday) the Irish pilots will stage another one-day stoppage while on Wednesday, July 25 and Thursday, July 26 the airline has cancelled up to 300 of 2,400 daily flights to minimise disruption to customers from strike action by some cabin crew in Belgium, Portugal and Spain.
The cancellations will involve almost a quarter of the 830 daily Ryanair flights to/from Spain.
The airline forecasts that across Europe up to 50,000 of their 430,000 customers (12%) will be disrupted on each of the days.
Ryanair confirmed that it has already issued email and text messages to the affected customers advising them that their flights have been cancelled.
They said all affected customers have been offered re-accommodation on alternative flights during the seven days prior to July 25 and 26 or the seven days after or a full refund – and that 90% of them have already done so.
Last week the airline was severely hit after almost a quarter of their flights were delayed by air traffic control shortages in Europe.
This morning (Monday) the Irish carrier tweeted that German, French and Austrian ATC staff shortages have caused delays to 65 (15%) of their 433 first wave of flight departures.
Ryanair has called on the EU and governments to take immediate action.
— Ryanair (@Ryanair) July 20, 2018
Ryanair to cancel up to 300 of 2,400 daily flights next Wed 25 and Thurs 26 to minimise disruption to customers from unnecessary strikes by some cabin crew in Belgium, Portugal and Spain: pic.twitter.com/qTsmq3lCPI

— Ryanair (@Ryanair) July 18, 2018
Irish Customer Notice: pic.twitter.com/oljflAcsMY

— Ryanair (@Ryanair) July 20, 2018
Update – Over 90% of our 50,000 customers whose flights on July 25th and 26th were cancelled due to a strike by some cabin crew in Belgium, Portugal and Spain, have now been re-accommodated on alternative flights, or applied for full refunds.

— Ryanair (@Ryanair) July 20, 2018
ATC Update: pic.twitter.com/IrySIr56nr

— Ryanair (@Ryanair) July 21, 2018