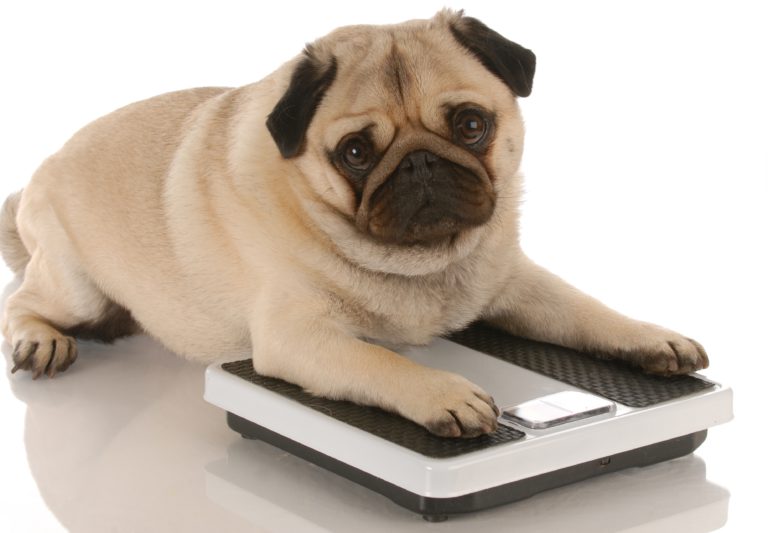 OBESITY is not just a problem in people; pets are packing on the pounds too! A recent report from the National Academy of Science shows that one in four pets is overweight or obese. This problem can no longer be ignored!
How much does a fat pet weigh?
"Putting your pet on the scale is not the best way to evaluate if the pet is overweight. There is a tremendous amount of individual variation in an animal's ideal weight. It is better to look at the appearance of each animal rather than at a weight that this breed or type of animal 'should' be. Looking at the animal's body condition is the best way to judge where your pet falls on the obesity spectrum."
Body condition scores are most commonly rated on a 5- or 9-point scale, with the middle of the scale designated ideal. The pet is scored by looking at its build, the amount of fat overlying its ribs, and its "waist." Breed, age, sex, and type of lifestyle are minor factors noted.
You should be able to feel your pet's ribs easily without pressing, but you should not be able to see the ribs through the coat. There should be a "tuck in" in the abdominal area. Your pet's torso, viewed from above, should resemble an hour glass. You can conduct these quick checks, but since it's hard for owners to be objective, it's best to seek your veterinarian's advice.
"Since more pets are overweight, we have become accustomed to seeing pets who weigh more than is ideal. The norm now seems to be several pounds overweight. Often if a pet is lean, owners think the pet is starving. However, studies show that lean pets have fewer health problems and an increased life span of up to 2 years.
Overweight
An overweight pet is not a healthy pet. Owners need to recognise that they are putting their pet's health at risk by allowing that extra weight. Obesity commonly leads to diabetes, heart problems, and arthritis. An overweight pet does not age well, either. Overweight pets are more prone to hip dysplasia, back and joint pain, and endocrine diseases. Extra weight also decreases a veterinarian's ability to manage these conditions both medically and surgically.
Healthy weight
Keeping Fluffy at a healthy weight can literally add years to her life. The answer is the same for pets as well as people: too many calories and not enough exercise. "The most common reason for overfeeding is that owners want to show their pet they care and one way is to give a treat. One extra treat can turn into 5 and then 10. Be aware exactly how much you are feeding your pets.
It can be a challenge deciding how much is the right amount to feed your pet. What's listed on the bag is for the average pet, but lifestyle, activity level, and age also affect how much food a pet needs. If your pet is overweight, feed less than what the bag says and adjust from there. Remember that treats reduce the amount of food required at each meal.
If given the chance most animals will eat more than they need. Talk to your veterinarian to figure out the ideal weight for your pet, then monitor your pet's weight with weekly or monthly "rib checks" or weigh ins.
Never start your pet on a diet without consulting your veterinarian.
Prevention is really the key. It is very hard to get pets to lose weight, especially if it is an arthritic pet that cannot exercise. Keeping animals at a steady weight is a much easier task. If you are faced with an obese pet, first rule out medical reasons for being overweight. Then simply decrease calories in the diet and increase exercise. An extra motivation is that people who lose weight together with their pet are more likely to keep it off.
Working with a veterinarian is the best way to formulate a healthy diet for your pet, determine your pet's ideal weight, and create a weight loss plan. Contact your local veterinarian if your pet is overweight.