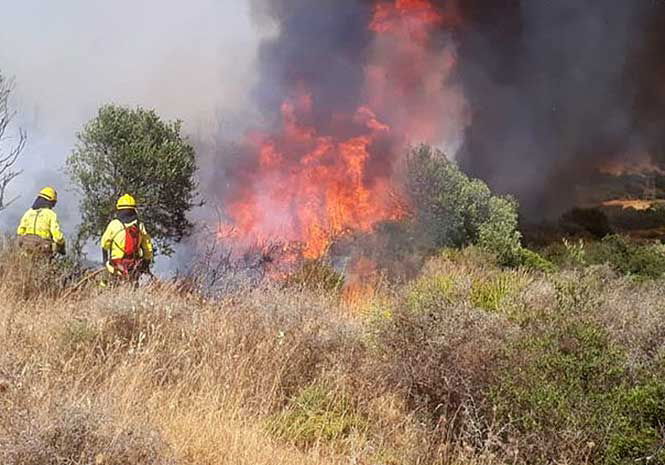 SPECIALIST firefighters are tackling a large wildfire that has broken out on the Costa del Sol this afternoon (Saturday).
Eight helicopters, including two of large capacity, have been joined by other aircraft that are scooping up water from the sea in an effort to bring the blaze at Casares under control.
More than 76 personnel are tackling the blaze on the ground with water pumps in the Venta La Victoria area.
UPDATE: The fire was officially declared stabilised at 9.40am on Sunday morning by INFOCA
Tarde intensa para los compañeros en el #IFCasares. Zonas con disponibilidad de combustibles y velocidad de propagación rápida. Vientos del oeste con intensidad de 15-20 km/h hasta las 20:00 horas, rolando entonces a noroeste. Dificultad de trabajo por alta carga de combustible pic.twitter.com/SqrrvaYUcL




— INFOCA (@Plan_INFOCA) July 21, 2018
ACTUALIZAMOS #IFCasares | Medios desplazados: 76 #BomberosForestales, 4 #TOP, 3 #AAMM, 4 autobombas, 1 #UMIF, 1 #UMMT y 14 medios aéreos: 8 helicópteros (2 de gran capacidad) 4 aviones de carga en tierra, 1 avión anfibio de @mapagob y 1 avión de vigilancia y coordinación pic.twitter.com/S3kJzBS7Bb

— INFOCA (@Plan_INFOCA) July 21, 2018



ACTUALIZAMOS #IFCasares, en paraje Venta La Victoria | Se incorporan 4 medios aéreos: 3 helicópteros (2 de gran capacidad) y 1 avión de vigilancia y coordinación aérea. Imágenes a la llegada del helicóptero Hotel 7 pic.twitter.com/pWYp5Sf7SE

— INFOCA (@Plan_INFOCA) July 21, 2018
DECLARADO #IFCasares, #Málaga. Despachados: 36 #BomberosForestales, 2 #TOP, 1 #AAMM, 2 autobombas y 4 medios aéreos (3 helicópteros de transporte y extinción y 1 avión de carga en tierra) pic.twitter.com/RICcqYwLdk

— INFOCA (@Plan_INFOCA) July 21, 2018