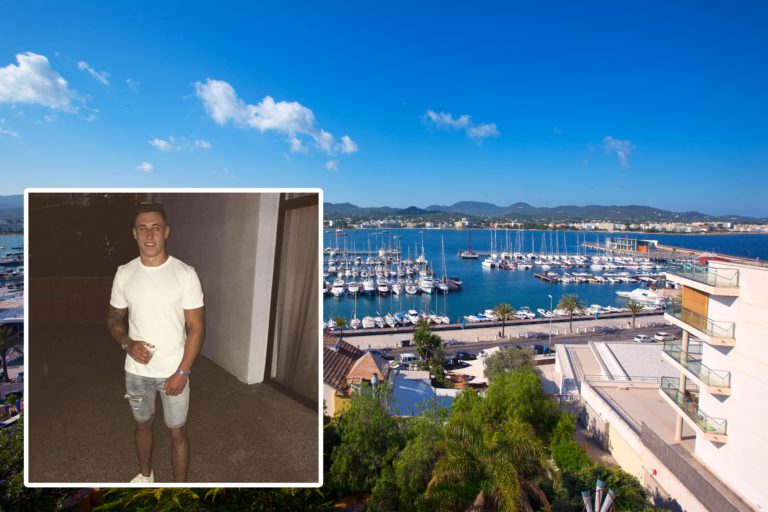 TRIBUTES have flooded in for a British expatriate who died after being punched in the face in Ibiza.
Harry Kingsland, 21, was described as a "lovely lad" by friends and family after his alleged killer, also 21, was held at a roundabout near the scene of the incident after escaping through a second-floor window.
The former British Gas manager is believed to have been trying to break up a fight in the party town of San Antonio when he was attacked by the unnamed suspect at an apartment.
Both men were working in Spain for the summer, but it remains unclear if they knew each other.
Ibiza worker Sarah Claffey from Dublin, changed her Facebook profile photo to one of her with Harry, captioned: "The pain I have in my heart. I've never felt pain like this in my life. That is a day that will never leave my mind until the day I die.
"My best pal taken for absolutely f*****g nothing. The anger I have and the pain I feel has me so heartbroken."
Harry's brother Anthony wrote: "I really can't believe I'm never going to see my little brother again.
"I love you Harry Kingsland. You were such a genuine lovely lad and didn't deserve this. I will never ever forget you bro."
Former club promoter Caitlin Naughton, who now works as a rep for Sunseekers, added: "Things like this are upsetting but when it's someone you know it makes it about 10x worse. Such a nice genuine lad, still can't believe it. Life is too short. RIP Harry."
Fellow employee Matt Ryan, from Liverpool, posted: "Still expecting him to show up to work. Doesn't seem real. Absolutely gutted. RIP Harry. Gone too soon."
Harry died after being punched more than once and going into cardiac arrest, a post mortem examination confirmed.
Local media said he was hit by a "hard punch" and suffered a "traumatic brain injury as a result of an attack".
The report added: "The young man went into cardio-respiratory arrest and died despite the resuscitation efforts of the emergency medics."
The British man suspected of the assault which killed him has reportedly been remanded in custody after being quizzed on suspicion of homicide.
He has not yet been formally charged after being arrested near a well-known roundabout known locally as 'The Egg.'