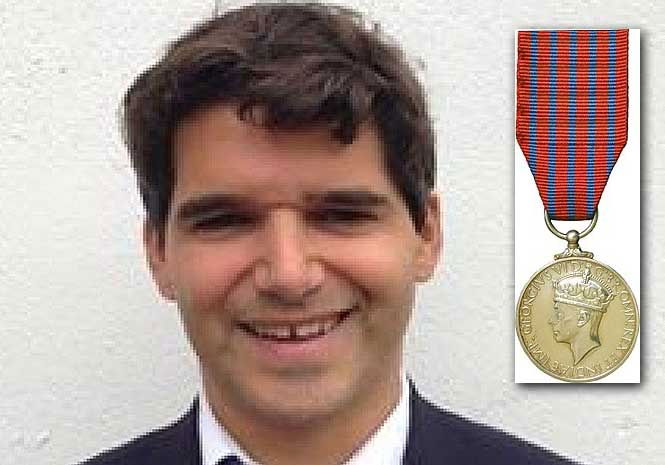 IGNACIO ECHEVARRIA has posthumously been awarded a George Medal by Queen Elizabeth II for his life-saving actions during the London Bridge and Borough Market terror attacks in June 2017.
The medal is granted in recognition of "acts of great bravery" and although the original warrant for the George Medal did not explicitly permit it to be awarded posthumously this was changed in December 1977.
Terrorists in a van had mowed down pedestrians on London Bridge before crashing it on the south bank of the River Thames.
They then ran to nearby Borough market storming pubs and restaurants and stabbing whoever they could find before Metropolitan police officers shot them dead.
A total of 48 people were injured in the attacks and eight people were killed who, in addition to Echeverria included, Canadian Christine Archibald, 30, James McMullan, 32, from Hackney, Frenchmen Alexandre Pigeard, 26, Sebastien Belanger, 36 and Xavier Thomas, 45, Australians Kirsty Boden, 28 and Sara Zelenak, 21.
The 39-year-old Spanish banker had bravely confronted the terrorists armed only with his skateboard, which allowed many people to escape.
The George Medal award committee noted that Ignacio Echevarria 'inevitably avoided more losses by running towards the terrorists to allow others to escape'.
After the terror attack in the British capital there were a few days of uncertainty when Ignacio was reported missing.
However, the Foreign Office confirmed shortly afterwards that he had died at the hands of one of the attackers. The autopsy confirmed that he was stabbed in the back.
Just last month the father of Ignacio paid tribute to his son one year on from the attack.
"He did what he had to do. I wouldn't expect less from him," Joaquin Echeverria said.
"I want it to be known that he always wanted to be good," he added.
The Spanish government posthumously awarded Ignacio the Great Cross of the order of Civil Merit for 'extraordinary services'.
Spain's King Felipe VI also honoured his bravery in a speech given in UK parliament during a state visit last year.