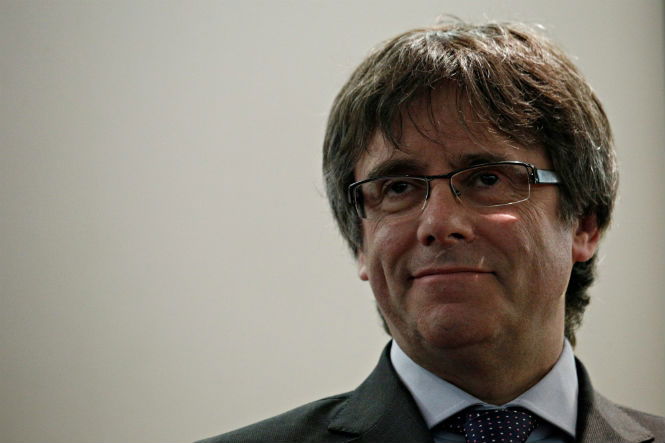 SPAIN'S Supreme Court has rejected a proposal from justices in Germany who barred the extradition of the former Catalan President on rebellion charges and has dropped his European arrest warrant.
The German court ruled Carles Puigdemont could be extradited to Spain on lesser charges of the misuse of public funds in connection with last year's Catalan independence referendum and declaration. The Spanish court dismissed this and has chosen to lift the warrant all together.
The court has also pulled warrants for five other pro-independence leaders currently living abroad following the push for independence.
Puigdemont said in a Twitter post the decision showed the "immense weakness" of the legal case that has dogged him since last year.
"Today is a day to demand the freedom of political prisoners. If they are freed from custody it would demonstrate the Spanish justice system is beginning to act more European," he said.
Avui és un dia per reclamar amb més força que mai la llibertat dels presos i preses polítics. Retirar les OEDE és la demostració de la feblesa immensa de la causa judicial. Revocar la presó preventiva seria la demostració que la justícia espanyola comença a actuar com l'europea.

— Carles Puigdemont ? (@KRLS) 19 July 2018



The court's decision is the second time warrants targeting the former president have been lifted.
Puigdemont has been in Germany since he was detained there in connection with European warrants issued for his arrest. He has remained there on bail awaiting a decision from the court on whether to allow his extradition.
He previously went from Spain to Belgium and lived in self-imposed exile after Spanish authorities sought to detain him in connection with the holding of last year's referendum.
His administration unilaterally declared the region independent after a majority of those polled backed secession and the government in Madrid imposed direct rule on the region as a result.
Madrid reportedly considers it unacceptable that Puigdemont would not be tried on rebellion charges, which carry a sentence of up to 30 years in jail.
Several other figures in the Catalan independence movement including former politicians remain in custody on similar charges.