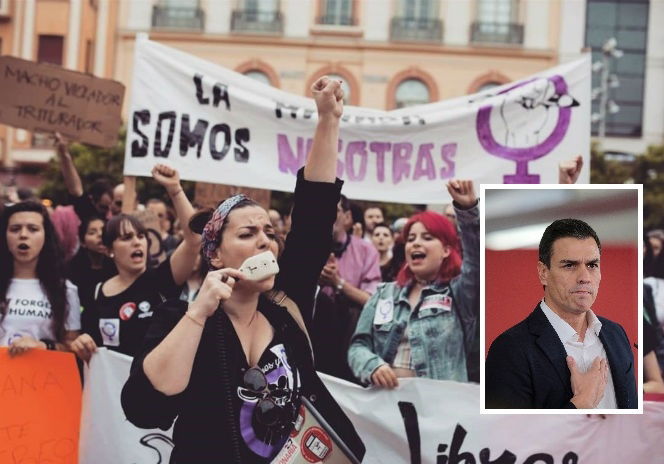 SPAIN'S Prime Minister has told lawmakers he plans to table new sexual assault laws clarifying what classes as rape.
Pedro Sanchez's announcement comes as a court in Navarra ruled the five members of the self-styled La Manada (wolfpack in English) gang could remain free on bail.
They were jailed after the court found them guilty of sexual assault but acquitted them of raping an 18-year-old woman during the San Fermin Bull Run Festival in Pamplona.
The left-leaning Partido Socialista (PSOE) Prime Minister said his proposed laws that would create a 'yes means yes' standard for consenting to sex. A similar law came into force in Sweden last month and classes sex without explicit consent as rape.
"To be clear, ladies and gentlemen, if they say no it means no, and if they don't say yes, it means no," Sanchez told deputies in Spain's Parliament.
Carmen Calvo, Spain's Deputy Prime Minister and Equality Minister, first presented the proposals last week. She said they would guarantee the "autonomy, freedom and respect" to people where sex was concerned.
Prosecutors seeking to convict defendants in rape cases in Spain currently have to prove that violence or intimidation was involved.
They were unable to do so in La Manada case, meaning the crime was downgraded to sexual assault which carries smaller penalties.    
The announcement comes as the Second Section of the Court of Navarra ruled to uphold the bailing of the five men jailed in connection with the La Manada case.
The ruling follows an appeal against their release from prosecutors, the victim, the Navarra Region and Pamplona Council. The five jailed are currently appealing against their sentences.
The bailing of the men sparked protests in cities across Spain. Demonstrators also took to the streets after it was announced they had been acquitted of rape and instead found guilty of sexual assault during the original trial.