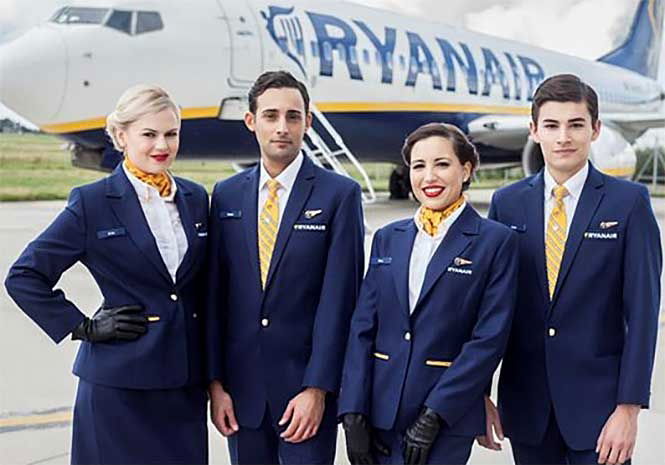 LOW-COST Irish airline Ryanair is to cancel up to 300 of 2,400 daily flights on Wednesday, July 25 and Thursday, July 26 to minimise disruption to customers from strike action by some cabin crew.
The airline announced today (Wednesday) that up to 50,000 of their 430,000 customers (12%) will be disrupted on each of the days.
Ryanair confirmed that it has already issued email and text messages to the affected customers advising them that their flights have been cancelled seven days in advance due to a notified strike by some cabin crew in Belgium, Portugal and Spain.
They said all affected customers have been offered re-accommodation on alternative flights during the seven days prior to July 25 and 26 or the seven days after.
The cancellations will involve:
– Up to 200 of over 830 daily Ryanair flights to/from Spain (24%)
– Up to 50 of over 180 daily Ryanair flights to/from Portugal (27%)
– Up to 50 of over 160 daily Ryanair flights to/from Belgium (31%)
– Up to 300 of over 2,400 daily Ryanair flights all over Europe (12%)
Ryanair has added extra customer service staff to help re-accommodate or refund customers over the next seven days.
Ryanair said customers travelling to/from Belgium, Portugal or Spain next Wednesday or Thursday, who have not received an email or text SMS today, should expect that their flight will operate as scheduled and should check-in to their departure airport as normal (88% of Ryanair's customers across Europe will be unaffected).
Ryanair's Kenny Jacobs said: "Ryanair sincerely apologises to our customers for these disruptions which we have done our utmost to avoid. Given that Ryanair cabin crew enjoy great pay – up to €40,000 p.a. (in countries with high youth unemployment) – industry leading rosters (14 days off each month), great sales commissions, uniform allowances and sick pay, these strikes are entirely unjustified and will achieve nothing other than to disrupt family holidays, and benefit competitor airlines in Belgium, Portugal and Spain.
"All affected customers have been contacted by email and SMS text message earlier today and we will re-accommodate or refund all of those whose flights have been disrupted."
The airline has also tweeted a briefing note giving the facts about the terms of employment of their cabin crew staff.
Ryanair to cancel up to 300 of 2,400 daily flights next Wed 25 and Thurs 26 to minimise disruption to customers from unnecessary strikes by some cabin crew in Belgium, Portugal and Spain: pic.twitter.com/qTsmq3lCPI

— Ryanair (@Ryanair) July 18, 2018