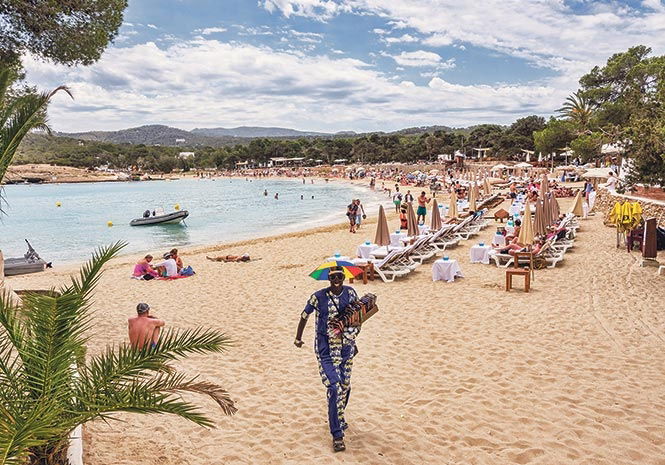 DID you read the article in last week's EWN on the holidaymaker who blacked up and walked around Ibiza imitating the 'looky looky men?'   
I did and found myself reading other articles, blogs and posts that popped up online on this subject.  
I was beyond shocked to see the long list of insults ranging from apparent lack of intelligence to lack of rights and the general assumption that they become aggressive when turned away. 
There are apparently now 147 nationalities inscribed on our Marbella town census (the padrón) and these people my friends, are one of them!  I have written about this nationality of fellow foreigner previously to share my little knowledge of the Wolof language which is the official language spoken by the Wolof tribe, from which most of our Senegalese looky lookies originate.   
I've been back on the coast for quite a few years now and got to know many of them by face, at least enough to wave in recognition to say 'hello.'  They live here, like we do, working to have a better life – which in itself is an indication of how hard they must have it back home if traipsing up and down the beaches in scorching sunshine day in and day out is a better life!
Just this weekend whilst sitting on the beach and minding our own business a young man laden with handbags suddenly appeared at the foot of the sunbed. His name was Momo, from the Wolof tribe. We know this as instead of turning away from him we had politely said 'no thank you' in his language.  
He was so surprised but even more so when my son-in-law continued on the conversation and asked him his name, in his native tongue. Within minutes our family group, now all familiar with the basic Wolof greetings were chatting as best we could with this young man and I really think we made his day and certainly ours didn't suffer for it!
One of the things I always ask is if they are inscribed on the local town census (the padrón). So far and without exception the reply has been yes.  This simple document gives them many privileges and benefits including essential social care, which they are entitled to even though they are living here without the correct documentation or work permits.  
I would think therefore that the town census must surely be just an internal document to show the inhabitants that are living in the area to justify the investment per capita owed to them by central government, otherwise these illegal immigrants wouldn't dare sign up.  
I thought I'd share this little detail with you as so many people fear registering on our town census (the padrón), mainly it would seem because of potential financial repercussions or taxes. However it would also seem that it's just benefits all round and potentially even the right to vote in the upcoming elections!  So why not take a 'looky look-see' and see how you can benefit too?
  http://www.turismo.marbella.es/en/services/international-residents-community/registration-and-residency%20www.marbellanowtv.com