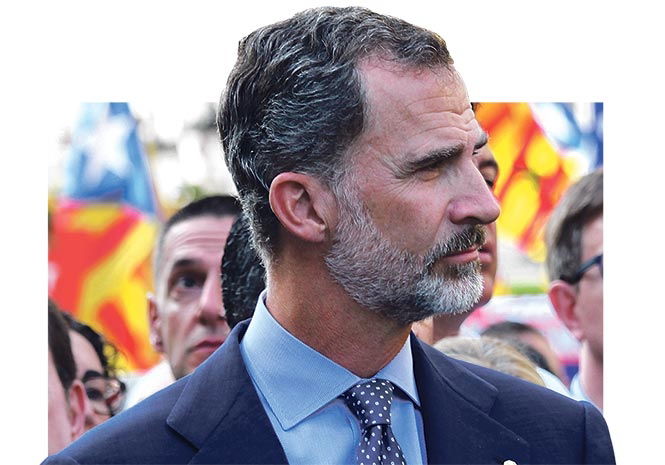 QUIM TORRA, regional president of Cataluña and acknowledged front man for his self-exiled predecessor Carles Puigdemont, is the charmer who once described the Spanish as dirty and lazy.
Since the regional parliament declared the Catalan republic on October 27, it's no surprise that Torra – like many Catalans and even Spanish nationalists – is not a monarchist.  
He wasn't welcoming when Felipe VI opened the Mediterranean Games in Tarragona and announced that the king is henceforth not wanted in Cataluña.
That's tough on exquisitely-polite Felipe but no-one believes in the divine right of kings anymore and being a monarch is Felipe's well-paid job. As all employees find at some stage in their careers, some of his colleagues will be more bearable than others.
The name game
PODEMOS supremo Pablo Iglesias and his partner, Podemos sub-supremo Irene Montero, announced that the twins she is expecting will be called Manuel and Leo.
Manuel is a nice old-fashioned name and Leo is rather more New Age but thank goodness the nippers are the same sex.  
Had there been one of each we would not have endured the equally New Age niña y niño (with girl conscientiously preceding boy) instead of niños.  
Iglesias and Montero can now refer, with unequivocal political correctness, to mellizos or gemelos, depending on whether they are identical or not, as well as chicos, nenes or chavales (and yes, well done the eagle-eyed, that last word does has have the same root as chav).
Job well done
THE Franco-era policeman and torturer Antonio Gonzalez Pacheco,  known as Billy the Kid, has more than the 1972 Police Merit Medal that adds 15 per cent to his pension.  
It turns out that he has four medals and they bump up the 72-year-old's pension by 50 per cent.
The remainder were awarded by Adolfo Suarez's government, one of them for Gonzalez Pacheco's part in freeing two high-profile kidnap victims in 1977. The fourth went to all members of the sinister plain-clothes Brigada de Informacion in 1982, months before Felipe Gonzalez's first socialist government was voted in. 
Although Gonzalez Pacheco received the medal he went to court in 2010 to claim a 15 per cent pension increment.
Rules are rules – the eternal excuse for dodgy decisions – so the case went through the courts without a hitch and Billy the Kid got his money without a murmur.
Nobody wants to see a poor old torturer forego his pension, but should he receive 50 per cent more for having tortured so often and so well?