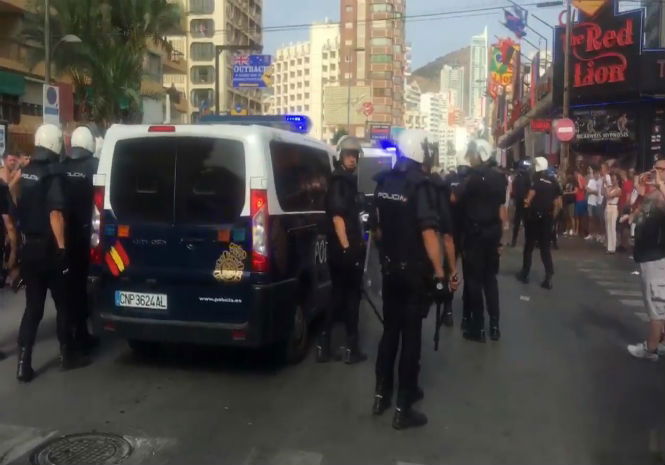 FOOTAGE has surfaced on social media which appears to show several police officers clad in riot gear cordoning off Benidorm's 'guiri zone' yesterday (Saturday).
Onlookers watch on as multiple police cars with lights and sirens on are parked on the Calle Mallorca, a street popular with British tourists.
Officers can be seen patrolling up and down the road, diverting traffic and walking with truncheons and riot shields in hand up the street. At one point an officer can be seen pushing an onlooker away as he attempts to film the scene.
The operation is believed to have been launched in connection with last night's World Cup game which saw England beat Sweden two nil.
Previous victories saw English football fans take to the area also known as Benidorm's 'Little England', with rowdy behaviour often following.
Riot police were previously deployed after England's victory against Panama.
The operation also comes as City Council officials called time on drunken behaviour and have announced a raft of new measures aimed at curbing what they see as booze-fuelled incidents.