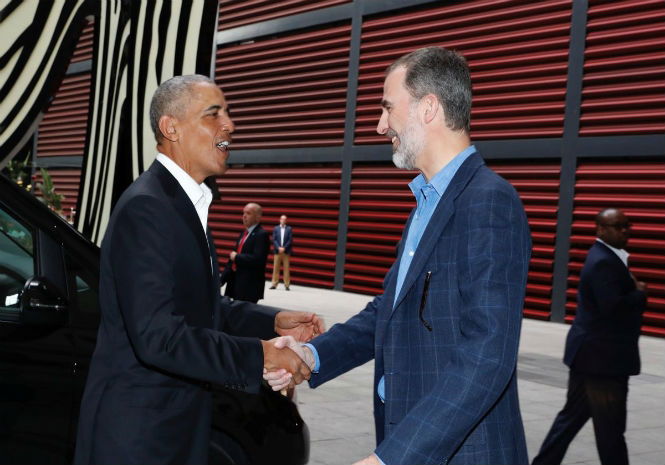 BARACK OBAMA, the former President of the United States, has met with Spain's monarch King Felipe in Madrid for a tour around the Reina Sofia art gallery yesterday (Saturday).
Pictures released by the royal family's Twitter account showed the ex and current heads of state taking in works including Pablo Picasso's Guernica and several by Salvador Dali.
El Rey, con el expresidente de los Estados Unidos de
América, @BarackObama, en el Museo Nacional Centro de Arte Reina Sofíahttps://t.co/PuiugOi2cl pic.twitter.com/DFRA5hTTGX

— Casa de S.M. el Rey (@CasaReal) 7 July 2018
King Felipe present Obama with a book about the painting, regarded by some as one of the great paintings of the 20th century, as a token of friendship.
Royal sources said the book included a dedication which read in English: "For President Obama, as a testimony of my friendship and affection and in memory of our visit together to the 'Guerinica', an eternal icon of the most universal art."
The visit follows a speech made by the former President at the Summit of Technological Innovation and Circular Economy held in Madrid last Friday.
It also comes as King Felipe travelled with Queen Letizia to the United States last month. Their trip culminated with a meeting between them and President Donald Trump in Washington DC.