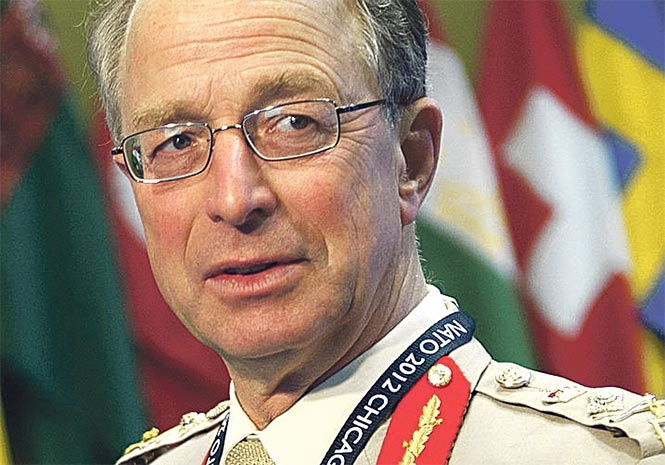 LORD RICHARDS of Herstmonceux, former top brass in the British Army, gave an example of how news can be twisted into, err, fake news.
Before the US election last year, he was quoted as saying that Donald Trump was not necessarily as awful as people say. This duly appeared in the Daily Mail as 'Chief of defence staff endorses Trump' and then, on Trump's own website, as 'Best ever defence chief favours Trump.' So much for Trumplomacy!
But that's nothing compared to the bizarre BBC subtitle gaffes on its News, Sport and Weather channels that have left the BBC lost for words. One blunder quoted Jeremy Corbyn praising Prince Harry 'and Hezbollah,' rather than 'Harry and his brother.'
Another howler welcomed Chinese New Year viewers into the 'year of the whores' – quickly corrected to 'horse.' A news report on pigs that 'nibble anything, even willies' was swiftly corrected to 'wellies.'  
Former Italian PM Silvio Berlusconi became 'Mr Beryl Beryl,' ex-Labour leader Ed Miliband renamed 'Ed Miller Band,'and Eurovision star Engelbert Humperdinck dubbed 'engle Bert humper distinct.' 
And when one BBC announcer revealed the government was 'making helpful decisions,' deaf members of the audience would have been confused as to why politicians were 'making holes for surgeons.' Likewise, a weather presenter was subtitled as saying there would be a 'few more mist and fox patches' while news that '500 actors are set to be killed' later became '500 badgers.' 
Other gaffes have seen the sale of millions of 'puppies' – not 'poppies' – in Britain on Remembrance Day, a 'cat's pornography reading' disclosed during a court report and a solemn call for 'silence' become 'a moment's violence' during the Queen Mother's funeral in 2002. Oops!
The communications' watchdog Ofcom has found that subtitling errors make some programmes 'unwatchable' for deaf viewers – hardly surprising as regards some of these blunders. Some of those quoted in its reports include 'they need a man' rather than 'they need a mum,' lemon written as 'lepl on' and 'be given to ayatollas' instead of 'to our toddlers.' Nuff said!
Nora Johnson's 'The Girl in the Red Dress,' 'No Way Back,' 'Landscape of Lies,' 'Retribution,' 'Soul Stealer,' 'The De Clerambault Code' (www.nora-johnson.net) available from Amazon (€0.99;£0.99) and iBookstore. All profits to Costa del Sol Cudeca cancer.