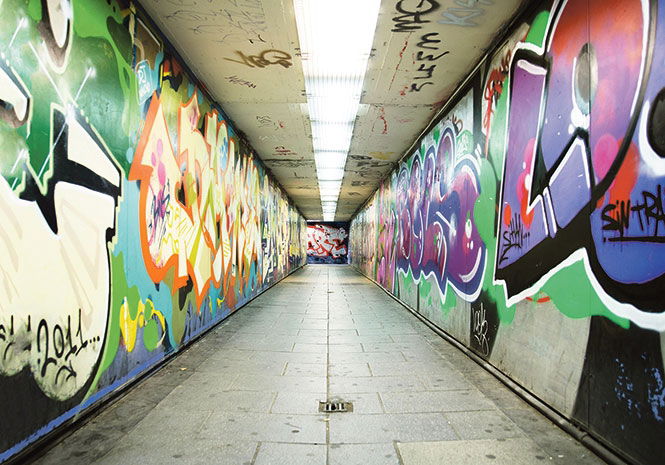 As far as I'm concerned, these so called graffiti 'artists,' are not only a blight on the landscape but a blight on our whole society. 
Their daubs scrawls and indiscriminate obscenities, desecrate our buildings, bridges, rolling stock and just about anything else that gets in the way of their sanctimonious spray cans.
I do admit that a small minority (ala Banksy) can indeed be creative, and sometimes even enhance buildings and structures that are otherwise gloomy and run down but the majority are not.
Most are anti-social destructive louts, with nothing better to do than destroy other people's creations and hard work.
Far from it for me to declare that the three young men who were recently rundown and tragically killed by a train deserved what they got, of course they didn't, but there should be no doubt in anyone's mind that they simply shouldn't have been there in the first place.
An insight into the so called 'artistic' morality of some of these people was starkly demonstrated in the reaction of some of the like-minded friends of these three young men.
Apparently, the following day 'tensions were running high' at the Loughborough Junction, where well-wishers sprayed black hearts and RIP on shutters outside the station. It appears extra police had to be brought in after youths defaced a flower memorial and daubed slogans criticising the police and Transport for London for their actions!
Er, just a minute, what particular actions were they actually objecting to? The way the police had the utterly disturbing and upsetting job of clearing the remains of the victims from the track? The transport authorities' highly daunting task of dealing with the disruption and commuter chaos that ensued after the accident?
Give us all a break. The sooner these misfits put the spray cans away, smarten up and get down to learning something from all that mainly free education they take so much for granted, the better it will be for all of us.
Personally, I would declare all-out war on these people; using CCTV and any means possible to bring them to book. I would like to see them named, shamed and made to clean off their filth, before being heavily fined, losing their student grants or even facing imprisonment.
How dare these blots on society be allowed to deface other people's property and cause an affront to our senses in the name of 'art.'
Perhaps something good will come out of this tragedy by discouraging others to risk their lives merely to splosh paint everywhere, but somehow, I doubt it. I dunno, perhaps it's me.  Sometimes I truly feel I'm getting too old for it all.
One totally unrelated action I would like to suggest before I finally check out, is to remove the words 'well done' and 'amazing' from the English language. That should strike most of our so-called TV presenters and quizzers utterly dumb and make way for some proper talent who can actually ad lib their way out of the proverbial paper bag!
Keep the faith. Love Leapy – [email protected]
---
Leapy Lee's opinions are his own and are not necessarily representative of those of the publishers, advertisers or sponsors.