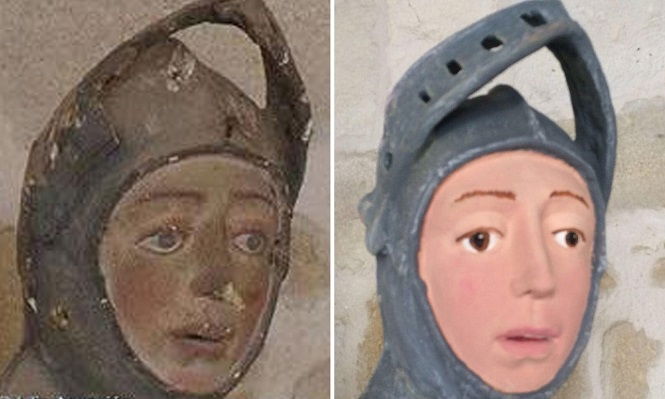 THE botched restoration of a priceless 16th-Century statue of St. George has sparked outrage in Spain.
It comes after a priest at the San Miguel church in Estella, Navarre, asked a local school teacher to give a wooden effigy of the saint a fresh coat of paint.
But the attempt has left the armoured hero with a rosy pink face and garish red-and-grey suit of armour, and the result has triggered comparisons with the infamous 'Ecce Homo Monkey Christ' painting.
The statue shows San Jorge – as he is known in parts of northern Spain – fighting the dragon atop a horse, but parish authorities reportedly thought it needed freshening up and approached a local handicrafts teacher, named locally as Carmen, to take the job on.
And her efforts sent social media into meltdown after being unveiled this week, with the saint compared to cartoon characters, including Tintin, and British comic Marty Feldman.
Fernando Segovia tweeted: "Make no mistake, Estella's Saint George is Stingy from Lazy Town."
'LIKE A BLOATED HEDGEHOG': The St. George statue has drawn comparisons to the infamous 'Ecce Homo Monkey Christ' debacle.
Kolo Leoz, mayor of Estella, is now demanding to know why the council was not consulted before the project was agreed, describing the restoration as "unfortunate."
He continued: "If they had involved us, our heritage department would have liaised with the regional government and got advice over the best way of handling the restoration."
Regional head of cultural affairs, Ana Herrera, said she may fine the church, adding: "The restoration project should have been presented to the authorities first, and they should have waited to get the green light."
The Association of Conservators and Restorers of Spain (ACRE) said in a statement the job "shows a frightening lack of training of the kind required for this kind of thing."
Six years, ago 81-year-old Cecilia Gimenez made international headlines after she took it upon herself to restore a 19th-Century fresco of the scourged Christ hanging on a church wall in Borja, Aragon.
Spanish press called it "the worst restoration in history" after the martyr was left resembling "a bloated hedgehog" but visitors later flocked to see the painting.
Quiero decir, yo al San Jorge de Estella el parecido se lo veo pic.twitter.com/rBfrJDZHUd

— Le Kim | #TeamAsia (@PeroQueDiceUste) June 25, 2018
Que no os engañen, el San Jorge de Estella es Stingy de Lazy Town pic.twitter.com/xjfAI3YukI

— Fernando Segovia (@fersegoji) June 25, 2018