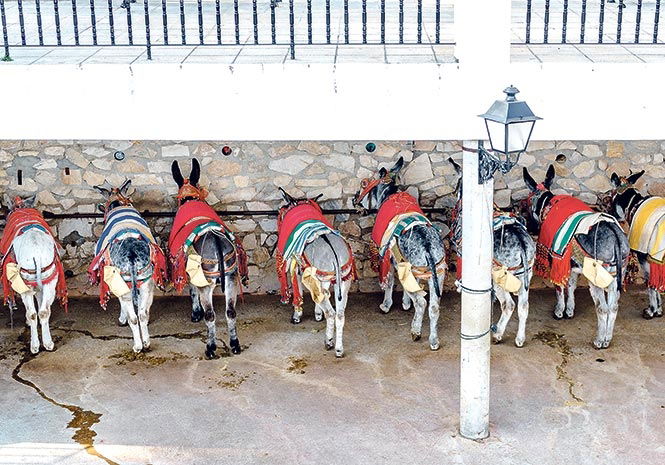 CALLS to ban donkey taxis in Mijas have hit the headlines again after an animal rights party spoke of its fury.
It comes after political group PACMA claimed the animals are tied to ropes little more than 20cm long which restricts their movement when resting.
The group added the way the donkeys were being treated was impacting their health, causing hoof and spine damage.
"They work 365 days a year and are never allowed to lie down to rest. During the night they sleep tied in small blocks of up to eight animals in 14 square metres while having no room to move or lie down," the party said in a statement.
"During work hours they are tied, sometimes for hours, to metal structures while waiting for potential customers. They have no freedom of movement and cannot meet their own physical needs," they added.
PACMA claimed the treatment of the donkeys violated regional and national animal welfare rules.
They have called on Mijas Council to 'rigorously' enforce the law and to ban the use of donkeys for taxis in the town.
The group added attempts to meet with Mijas authorities have been unsuccessful despite their protests.
Angel Nozal, former mayor and leader of the conservative Partido Popular in Mijas, put forward his animal care proposals last year. 
He wants to see the creation of a shelter for abandoned animals in the quarry at El Barrio, as well as a purpose built stables for donkeys pulling taxis in Mijas Pueblo.
"The current stables are located in an urban setting where people live and do not meet the sanitary conditions necessary for the animals to be there," said Nozal.
According to Nozal, a 2014 report made it clear that there was a problem with the current arrangements and this will form a major part of the party's local manifesto for the next election.
"The refuge will also serve to look after those donkeys which are too old to continue to serve as taxis where they can live out their lives. In addition, it could become a tourist attraction in its own right as visitors could see the animals for themselves."
In the wake of recent efforts to lobby Mijas Council, Euro Weekly News urges the Costa del Sol expatriate community to support calls banning donkey taxis. 
This is not the first time the practice has sparked outrage, with a 2015 video of a handler beating an animal which refused to move leaving animal lovers up in arms and leading to the installation of railings offering greater freedom of movement.
A new petition launched via online platform Change.org has already gathered more than 90,000 signatures, and readers are encouraged to sign and share it to help reach the 150,000 target. It can be found at: 
https://www.change.org/p/ayudanos-a-acabar-con-el-maltrato-a-los-burros-de-mijas