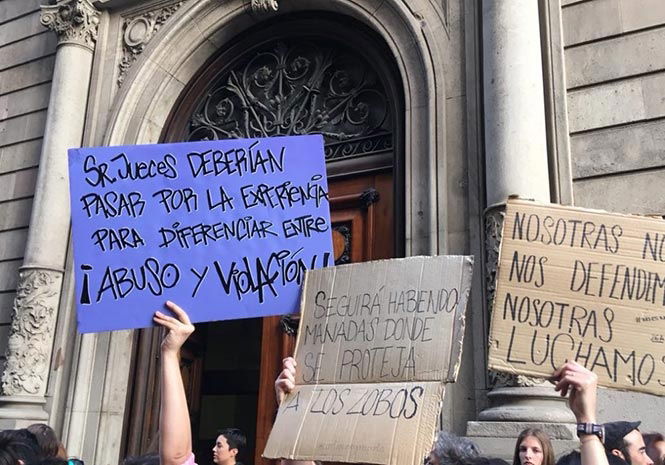 A COURT in Navarra has ruled five men found guilty earlier this year of sexually assaulting an 18-year-old woman in Pamplona should be provisionally released from prison.
The group, known as La Manada or The Wolfpack, will have to post a €6,000 bond to secure their release. Agustin Martinez Becerra, the lawyer representing four of the men, said they would pay the bail fee as quickly as possible.
Jose Angel Prenda, Alfonso Cabezuelo, Antonio Manuel Guerrero, Jesus Escudero and Angel Boza will also be required to appear before the court on Mondays, Wednesdays and Fridays. They are barred from entering the Madrid region where the victim lives.
The Navarra court said the fact the men lived more than 500 kilometres away from the victim meant their release could be justified.
Justices also cited their not having a previous history of committing sex crimes and that they had no means of seeking an "effective escape".
The court added the social outcry surrounding the gang was not a sufficient reason to keep them in prison. The bench, made up of three judges, voted by a margin of two to one to allow the release.
Judge Jose Francisco Cobo, who voted against the move, said in his dissenting opinion that the men should be kept in prison to ensure the security, stability and tranquillity of the victim.
Three of the men were serving their sentenced in Pamplona prison and two are in the military prison of Alcala de Henares in Madrid.
The decision has reportedly triggered protests in Pamplona and Barcelona. A previous ruling in the trial of the gang that acquitted them of rape but found them guilty of the lesser offence of sexual assault triggered rallies across Spain.
Concentration in Compostela against the freeing of #LaManada (the Woolf pack / Herd) #GangRape #ViolenceAgainstWomen #NOmensNO pic.twitter.com/2U9PDdo1bV

— Pilar Fernandez (@pilaraymara) June 21, 2018
The court heard during the original trial the men, part of a Whatsapp group named 'La Manada', met the 18-year-old during Pamplona's San Fermin festival in 2016.
Prosecutors told the court they led her to the basement of an apartment block in the city where they assaulted her and filmed it on their mobile phones. The woman was later found in the street by passersby before the attack was reported to police