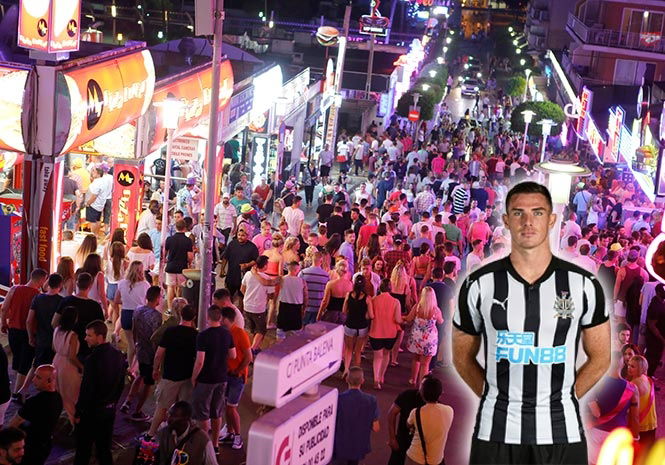 NEWCASTLE UNITED footballer Ciaran Clark has been knocked unconscious after being attacked in Magaluf.
The 28-year-old defender was hurt after stepping in to help a friend who had allegedly been hit over the head with a bottle during a dancefloor argument involving their girlfriends.
A British man in his 30s was held for punching the Republic of Ireland international in the face at Crystal's Bar on the Punta Ballena party strip, and has been freed on bail after a court appearance.
Harrow-born Clark, who previously played for Aston Villa and represented England to U20 level and his pal were both treated at Palma's Son Espases Hospital in the wake of the incident.
His attacker was described by police as being around 6ft 2ins tall, and reportedly hit him once before leaving the bar and returning to hit him in the mouth, knocking him to the floor.
He suffered cuts and bruises to his face and arrived at A&E in a taxi, while his friend, believed to be 31-years-old, was taken away by ambulance after being spotted running shirtless down the street with blood pouring from a head wound.
A doorman at the bar, popular with British revellers, told police he had thrown out all three men after the fight broke out.
He added that a woman who said she was Clark's girlfriend said the attack happened after the alleged aggressor started bothering her and the group she was with on the dancefloor.
The suspect told the court that he reacted after a young man grabbed his chest and injured him while he was in the bar holding his mobile phone.
He added that he had not been drinking and punched the other man, who he claims was not Clark, in the nose.
A Calvia Town Hall official said: "Local police arrested a 32-year-old British man on suspicion of two assaults.
"He was handed over to the Civil Guard the same night so he could be taken to court. Both men who were hurt were attended by medical staff. They were both British.
"It will be up to the local courts now to determine the possible criminal responsibility of those involved in this incident but only one man has been arrested and is currently being investigated as a suspect."
It remains unclear if Clark and his friend have been discharged from hospital.