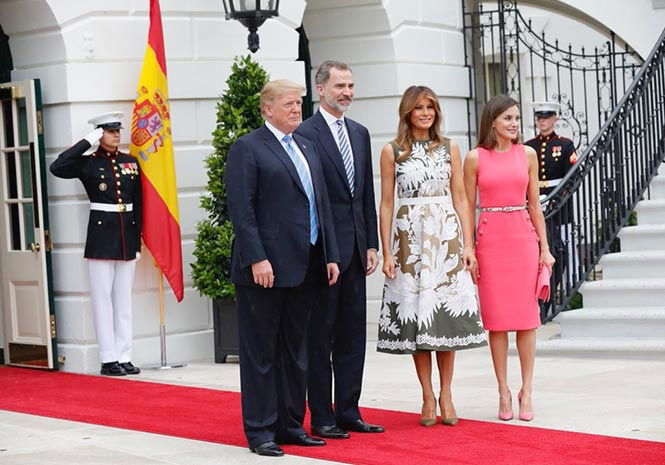 SPAIN'S King Felipe and Queen Letizia have met with President Donald Trump and First Lady Melania Trump at the White House in Washington DC.
Trump received the King and Queen on the South Portico of the Executive Mansion. It was followed by discussions inside where both heads of state praised the other's country and relations between the United States and Spain.
The meeting comes at the end of King Felipe and Queen Letizia's state visit to the US which began in New Orleans last Thursday June 14.
Trump said he loved Spain and that the relationship between the two countries was the "best" two states could have.
"We were in Spain recently and we love the country. Very special people, a very beautiful country."
"Our relationship has been excellent over the years, excellent business relationship and military relationship. The best you can have," he said.
King Felipe said the two countries shared historical heritage and had many common interests.
"There is also a common basic aspect that is the value for democracy," he said.
He also extended an invitation for Trump to visit Spain which former Prime Minister Mariano Rajoy had done in September last year.
Encuentro de los Reyes con el Presidente de EEUU, Donald Trump, y la Primera Dama, Melania Trump. @WhiteHouse . Viaje de los Reyes a EEUU. https://t.co/Vg3hp9Nd4n pic.twitter.com/ymr9VroicO

— Casa de S.M. el Rey (@CasaReal) 19 June 2018
The Spanish King and Queen have been in the US since last Thursday when they arrived at New Orleans before going to San Antonio in Texas.
They were joined by Spain's new Foreign Minister Josep Borrell who met with counterpart Secretary of State Mike Pompeo.
The two reportedly held meetings to discuss the US's recent introduction of tariffs which have hit European goods including Spanish olives.
The visit comes as the EU also expressed concern over the introduction of levies on imported steel and aluminium into the US. Trump's tariffs policy has sparked fears from many that it could result in a tit-for-tat trade war.