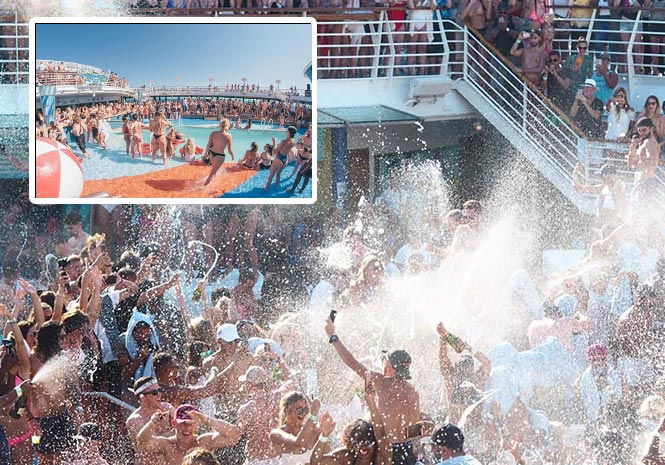 A SPANISH cruise descended into a 'drug-fuelled orgy' after a ship was filmed for a Channel 4 show, passengers have claimed.
Holidaymakers say they snorted cocaine, smoked cannabis and took part in raunchy public displays while aboard Vision of the Seas.
Revellers were allegedly able to buy a 'meal deal' including €300-worth of cocaine, with one telling UK media: "It was easier to get a bag of coke on board than it was to get a drink. It was mad."
Another party-goer dubbed the week-long voyage "carnage on a new level of wrongness" and described how group sex broke out on the "lawless" vessel, adding: "I'm surprised no-one died."
One British passenger was held by police after the boat docked in Cannes, France, while another vomited into the swimming pool and others were seen slumped in corridors after passing out.
37-year-old Alicia Morris, who was aboard the cruise, said: "It was like a floating episode of Geordie Shore with drugs and escorts and a police raid or two.
"The show was being filmed all the time on the boat, with cameras everywhere."
Travel firm Anchored Cruises – which runs floating festivals aiming to combine party vibes with luxury – reportedly chartered the liner from operator Royal Caribbean, with the mayhem filmed for new five-part reality series Shipmates.
The voyage with up to 2,500 passengers started in Barcelona before taking in Cannes, Ibiza, Pala de Mallorca and returning to the Catalan capital.
As part of the show, two teams of five people in their twenties participated in a series of challenges before others on board voted for the winners.
Channel 4 producers have insisted the cruise would be "the most Instagrammed event this year."
But passengers alleged that drugs and excessive drinking were rife.
One said: "Sometimes you didn't know if you were on a cruise or in the middle of some drug-fuelled orgy."
And another added: "It was a far cry from the glamorous party cruise it's advertised to be. It was carnage."
Others revealed that "people were smoking weed," and "there were big white double beds around the pool too and I saw people all over each other on them."
A reveller who paid €1,600 for the all-inclusive experience described the experience as "really, really disgusting."
A man who abandoned ship in Ibiza said: "I will never ever again go on such a trashy trip. The crowd was very Geordie Shore. Utter rip off.
"I know of drug dealers making an absolute killing and running out as the demand was so high. We left after 3 days as it was a joke."
Those involved in the show have not been accused of anything illegal.
Channel 4 said in a statement: "We cannot comment on the behaviour of other passengers."
A Royal Caribbean official added: "We operate with the health and safety of our guests and crew as our highest priority.
"We are co-operating fully with law enforcement on this matter."
Anchored Cruises has failed to respond to a comment request.