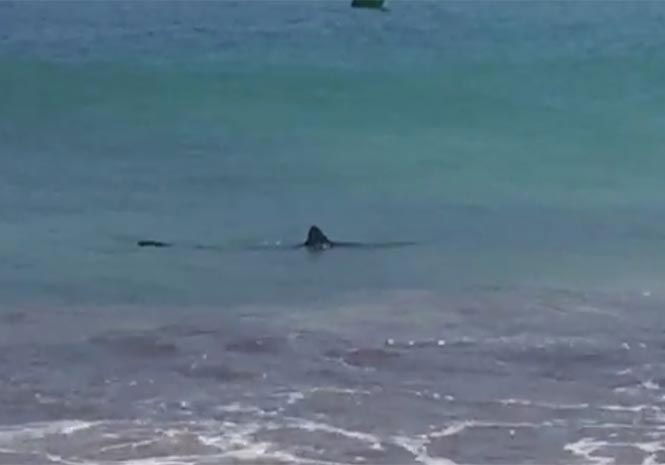 THIS is the hair-raising moment that an eight-foot shark terrified sun-seekers on a Spanish beach.
The appearance of the giant predator sparked panic as tourists screamed "it's coming" while lifeguards hoisted red flags to stop people swimming at Arenal d'en Castell in Es Mercadal, Menorca.
Believed to be a blue shark, the fish stayed in the area for several hours before returning to deeper water.
Bathers were not allowed to enter the water for the rest of the afternoon.
In the video footage, one beachgoer is heard to say in English: "It's coming. Oh my God, I think it's dead."
A woman then replies "No, it's not dead," as others shriek in the background, before adding: "Every time we go to the beach something happens."
Dozens of those gathered at the shoreline of the sandy strip – half an hour from island capital Mahon and popular with British holidaymakers – recorded the animal on their mobile phones.
Town mayor Francesa Ametller said it had not behaved aggressively and said the decision to clear the water was only a precaution.
The blue shark rarely bites humans but does occasionally approach Mediterranean shores.
An individual was last summer pulled onto a beach in Mallorca after sending hundreds of horrified bathers running out of the sea, while in May this year a sighting in Fuengirola triggered pandemonium and a police hunt on the Costa del Sol.