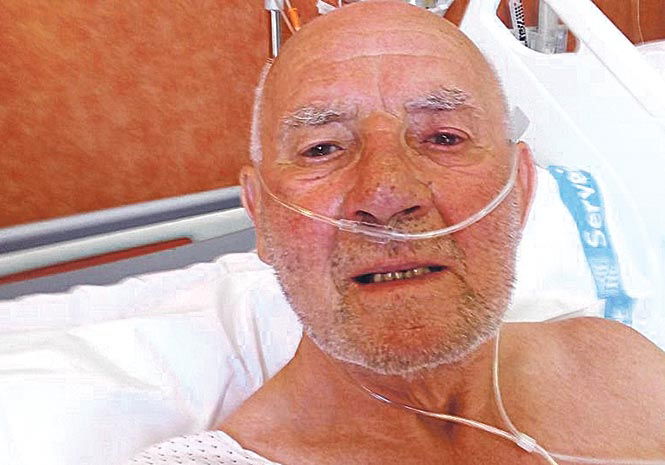 A SCOTTISH pensioner who jetted to Spain to celebrate his 84th birthday ended up stranded in a Mallorca hospital for 10 days after breaking his leg.
Michael Hoy, from Rutherglen near Glasgow, was banned from boarding his flight home after medics insisted he needed a specialised aircraft.
Daughters Trisha Donnelly and Caroline Milligan had no option but to fly out to the island after their dad spent his birthday in a ward where almost no English was spoken.
It took more than a week of battling with the airline, airport managers, holiday insurers, and Spanish doctors before they were finally able to get him back on Scottish soil last Saturday after a row of seats with special wheelchair access was made available.
He was immediately taken to the Queen Elizabeth University Hospital, and Trisha told local media: "It has been a nightmare from start to finish. My dad was hospitalised after stepping off a bus in Spain and there was a three foot drop below.
"The next day after the leg break my dad was operated on and doctors were shocked, saying they'd never seen an injury like it.
"It was such a serious operation that my sister and I flew out the next day. We were extremely worried and had no idea what was going to happen."
Michael, who lives in sheltered housing, flew to Mallorca for a two-week holiday with partner Caroline McKenna for what they anticipated would be a relaxing break.
But the grandfather suffered his horrific injury four days into the trip, with bolts and pins screwed into his leg during four hours of surgery.
Caroline, 82, said: "It was absolutely awful. The language barrier in the hospital was a real problem and we were stuck there for 10 days."
And further complications arose as the family prepared to fly home.
Trisha said: "First the ambulance never arrived to pick him up and when we called the insurers they told us it had broken down.
"We also required a special type of wheelchair because of the severity of my dad's injury, but when we got to the airport they came out with an ordinary wheelchair.
"I got him strong painkillers for the flight home and when we landed there were problems getting my dad off the plane. Twenty minutes after my sister and I picked up our luggage he still wasn't out.
"Eventually they had to lift him and he came off the flight."
Michael is expected to stay in hospital for weeks amid fears that blood clots could develop in the shattered limb.
Trisha added: "He's had a terrible time. It was a shame that he was in that Spanish hospital for so long – and had to spend his birthday there.
"We bought little cakes from a shop over there and called his grandkids so they could wish him happy birthday and cheer him up."