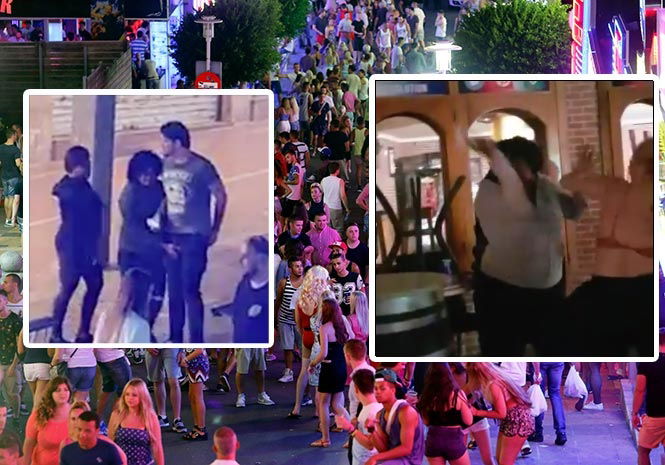 RISING tensions in Magaluf have seen prostitutes accused of robbing drunk British holidaymakers clash with mobs of protesting vigilantes.
It comes after 20 of the mostly African women complained that they are being victimised after Spanish taxi drivers shot videos of them chanting "No prostitutes on the streets" on their mobile phones.
They claim they are being harassed, verbally abused and beaten up or attacked with pepper spray. And some say they have been hospitalised with video evidence to identify their assailants.
But local businesses blame them for a drop in trade and say the women resort to violence, throwing sticks and stones at demonstrators.
In new footage, one woman is seen grabbing a piece of wood after being chased by a group of men shouting: "Get out, get out."
Others yell: "The tourists are not coming because of you" and: "What happens if you go back to your own countries and rob people. They slit your throats, right?"
A man who stopped his car to collect some of the women was also challenged.
British tourists earlier this week joined a dawn rally against the alleged pickpockets, accused of robbing drunk revellers after enticing them with promises of cheap sex.
And it is believed that their pimps often target 'rich-looking' foreigners as they head back to their hotels.
The sex workers, who are believed to have arrived to Spain through Nigerian crime networks, say they have been unable to obtain residence papers and since some have children they have no choice but to resort to prostitution.
Mayor of Calvia Alfonso Rodriguez Badal said in a statement that he has requested an urgent meeting with the Balearics regional government to tackle the issue, insisting that a greater police presence is needed.
Investigators have also held freed four victims of sex trafficking who had been "brainwashed with voodoo rituals" in Nigeria and brought to Valencia ahead of moves to Palma de Mallorca and Ibiza.
One of the young women reportedly told detectives that she had been promised a "better life" in Spain, but on arrival gang members told her she was in debt and forced her to prostitute herself "using threats and aggression."
But in Magaluf, one protest group thought to be led by British expatriates has set up a social media account which says: "Enough is enough.
"We've made this group to make a stand against the 'prostitutes' who have robbed, stabbed, bullied and attacked not only holidaymakers but the residents and seasonal workers of Magaluf.
"It's about time we all unite to show them that this is our home, this is our street and we will not take this anymore.
"No longer will we fear walking home alone, no longer will we have to see them preying on the weak, drunk and helpless.
"We will hold public demonstrations every night and prevent them from making a living preying on the people of Magaluf and together we will take back our streets, and make them understand that they are no longer welcome here and they are not wanted!"
{mp4}1472819{/mp4}