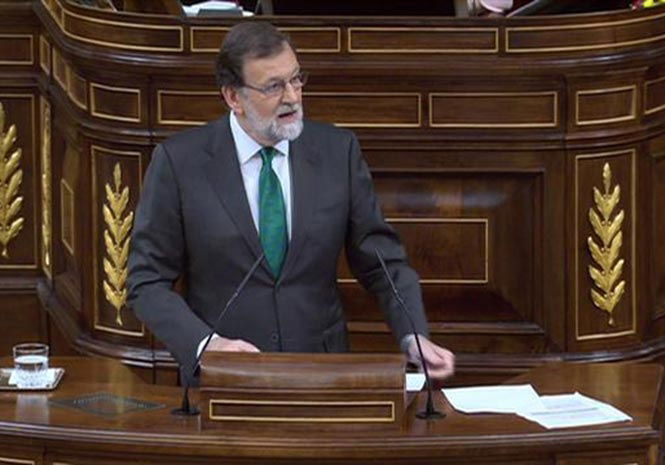 SPANISH lawmakers have begun debating a no confidence motion today which could see the country's Prime Minister unseated if passed.
Members of the Congress of Deputies are scheduled to debate whether Mariano Rajoy should remain in the top job in the wake of the Gurtel kickbacks from contracts corruption scandal.
Rajoy has repeatedly said the ruling condemned individual members of his ruling conservative Partido Popular (PP) but not sitting members of the government.
"I recognise there have been corrupt members of the PP, but the PP itself is not corrupt. That's why so many people have voted for us," he said.
Rajoy has already delivered his speech to the Congress of Deputies this morning in a bid to persuade them to let him keep his job.
El PSOE interpreta una sentencia, que no es firme, de manera interesada y manipulada. No se ha condenado a ningún miembro del Gobierno ni a ningún militante actual del @PPopular. Mienten en el Congreso de los Diputados. #MociónCensura pic.twitter.com/nETCemnaOw

— Mariano Rajoy Brey (@marianorajoy) May 31, 2018



The motion of censure (no confidence) was introduced into the Congress of Deputies by the left-leaning Partido Socialista (PSOE) opposition last week.
It proposes replacing Rajoy, of the PP, with the PSOE's leader Pedro Sanchez.
Sanchez said earlier this week that political parties could not look the other way in the wake of the Gurtel scandal.
"This Motion is not a yes vote for the PSOE, it is a yes vote for a democracy that values itself, its values, convictions and ethics in public life," he said.
No hay posiciones intermedias, es un sí o un no a la #MociónDeCensura. A quienes defienden el NO hay que preguntarles: ¿En qué posición queda la democracia española si el próximo sábado Rajoy sigue siendo el presidente del Gobierno? #UnaMociónParaQueTodoCambie pic.twitter.com/AiKw71NDn5

— Pedro Sánchez (@sanchezcastejon) May 29, 2018
Neither party has a majority of seats on its own in the 350-member Congress of Deputies. The PSOE will have to rely on support from smaller, regionalist parties to succeed after the centrist Ciudadanos party ruled out backing it.
Their leader, Albert Rivera, said his party instead favoured holding early elections. Ciudadanos previously supported the PP minority government on key votes in Parliament but it said it was walking away from the pact in the wake of the Gurtel ruling.
Rivera said this morning that the motion was a product of a "corrupt" and "irresponsible" two party political system.
"It is terrible that the future of Spain is decided by those who gave a separatist, nationalist and populist coup instead of being determined by Spaniards in the polls," he said.
La corrupción y la irresponsabilidad del bipartidismo nos ponen a todos a los pies de los caballos. Es terrible que el futuro de España lo decidan los que dieron un golpe separatista, nacionalistas y populistas, en lugar de todos los españoles en las urnas.pic.twitter.com/1ZxtpAuzcZ

— Albert Rivera (@Albert_Rivera) May 31, 2018
The PSOE has managed to secure the backing of the far-left Podemos party for its motion. Pablo Iglesias, the party's leader, said in a television interview Mariano Rajoy should make a dignified exit from the office after years of "looting".
? M. Rajoy no puede cometer la bajeza de dimitir para esquivar una moción de censura. Lo mínimo que debe hacer tras años de saqueo y de legislar contra la mayoría de la ciudadanía es aguantar el chaparrón e irse con cierta dignidad. pic.twitter.com/ejpmY4UQ2S

— Pablo Iglesias (@Pablo_Iglesias_) May 30, 2018
The no confidence debate is set to continue throughout today and into tomorrow, when it will be followed by a vote on the PSOE's motion.