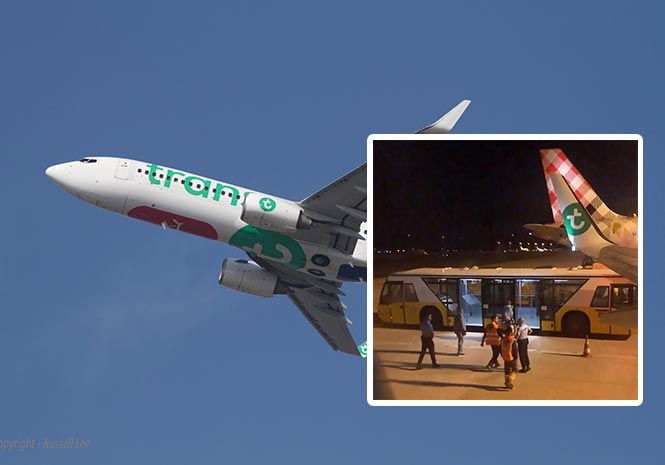 A SPANISH flight packed with holidaymakers was forced to make an emergency landing due to the 'unbearable' stench of an 'unwashed' man.
The passenger's body odour was so vile that the Transavia service from Amsterdam's Schipol Airport to Gran Canaria was diverted to Faro on Portugal's Algarve.
Cabin crew reportedly tried to make the traveller sit in the toilet before the captain decided to cut the journey short so that he could be taken off the Boeing 737 aircraft.
The foul smell caused some sun-seekers to vomit while others fainted, with Belgian traveller Piet van Haut describing the reek as "unbearable."
He added: "It was like he hadn't washed himself for several weeks.
"Several passengers got sick and had to puke."
A picture snapped by one of those aboard the plane shows ground staff escorting the stinking individual onto a waiting bus.
A Transavia official said: "The aeroplane diverted because of medical reasons, but it is indeed right that he smelled quite a bit."
It remains unclear why he stank, or what medical condition he was suffering from.
In February, a Transavia jet from Dubai to Amsterdam was re-routed because a passenger repeatedly broke wind, sparking a mid-air brawl.