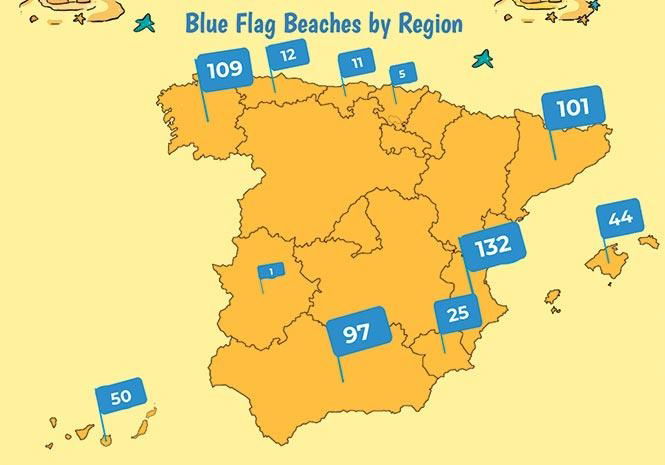 A TOTAL of 81 blue flags will be fluttering in the summer breeze on Costa Blanca beaches this year. 
Since 1987, Spain has been awarded more blue flag beaches than any other country, with one in every six blue flag beaches on Spanish soil, and that trend continues in 2018.
This year, Spain flies the blue flag proudly on a total of 591 beaches, with an additional 101 blue flags awarded to marinas and five for cruise ship ports.
Blue flag beaches are recognised for their excellence in water quality, safety features and amenities, sustainability and accessibility.
A total of 81 blue flags are waving on Costa Blanca beaches this year, thus making Alicante the Spanish province with the most beaches and marinas awarded with this quality label.
Sixty-eight beaches and 13 marinas in the Alicante Province have gained a blue flag this year.
Beaches on the Costa Blanca to be newly awarded blue flag status are Cabo Cervera in Torrevieja, Cala Cerrada and Mil Palmeras in Orihuela, and Puerto in Pilar de la Horadada.
David Kennedy, head of marketing at Spain-Holiday.com thinks the news is positive for the region in continuing to attract international tourism saying, "2017 was a record-breaking year for tourism in Spain with over 80 million international visitors and beach holidays are in more demand than ever."
 "The Costa Blanca continues to be one of the most sought-after destinations for summer holidays, particularly with families," adds David, "who are attracted to the great weather, quality beaches and amenities on offer in the area."
Last year, Spain-Holiday.com received 63 million web visitors looking for a beach holiday rental [https://www.spain-holiday.com/Spain/holiday-rentals/beach], up 29 per cent on the previous year.