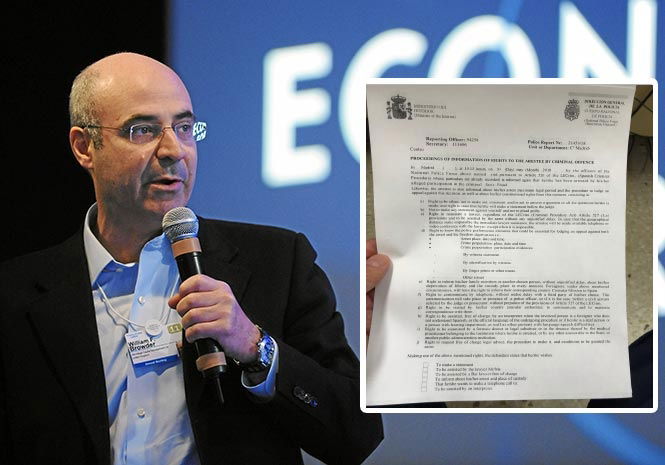 BRITISH financier and anti-corruption campaigner Bill Browder, a leading critic of Vladimir Putin, has been freed after being held on a Russian Interpol arrest warrant in Madrid.
The US-born 54-year-old write on Twitter that he was released after an hour in custody after Spanish authorities were advised the warrant was invalid.
Interpol said in a statement: "There is not, and never has been, a Red Notice for Mr Bill Browder.
"Mr Browder is not wanted via Interpol channels."
After earlier tweeting his arrest with a photo taken in the back of a police car, he later posted a copy of Spanish interior ministry documents accusing him of fraud.
He added: "Spanish National Police just released me after Interpol General Secretary in Lyon advised them not to honor the new Russian Interpol Red Notice.
"This is the sixth time that Russia has abused Interpol in my case."
As CEO of investment fund Hermitage Capital Investment, Browder fronted a campaign to expose alleged corruption by Russian officials after his employee Sergei Magnitsky, a lawyer, died in a Moscow prison after being held for 11 months without trial on charges widely claimed as false.
In the wake of his death Browder worked with US Congress to pass the 2012 Magnitsky Act, a range of sanctions against top Russian officials.
Hermitage Capital was at one time among the largest investors in Russia, but he was later accused of tax fraud and refused entry to the country.
He said he was in Spain to give evidence to anti-Russian mafia prosecutor Jose Grinda about the "huge amount of money from the Magnitsky case that flowed to Spain."
British Foreign Minister Boris Johnson said that he spoke with Browder and "very glad that he has now been released."
He tweeted: "Moscow should concentrate on bringing those responsible for the murder of #Magnitsky to justice."
—> Bill Browder (@Billbrowder) 30, 2018