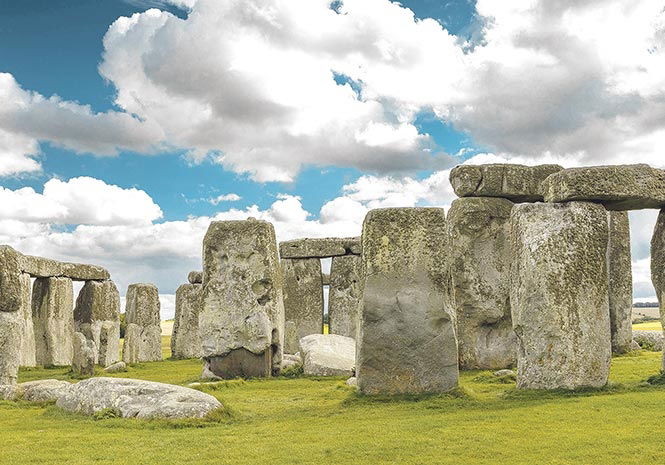 THERE'S just no pleasing some people. The UK's got World Heritage Sites, a vibrant and cultured capital city and great landscapes.
But not all visitors are impressed. As some recent less-than-glowing TripAdvisor reviews reveal.
Take Stonehenge for instance. An acknowledged wonder of the ancient world and Unesco heritage site? Not so for one reviewer: 'Just a bunch of rocks.' For another: 'The definition of a tourist trap. Miles and miles of travelling to arrive at a park where you are given an audio guide to some really uninteresting rocks.'
Surely the white cliffs of Dover, the first glimpse of Britain for many visitors, would fare better? Not exactly: 'Except for the historical significance, there isn't anything exciting about the cliffs as they are today. Glistening white? They're more like a dingy brown.'
Maybe the other end of the country – Land's End, Cornwall – would cut it? Hardly! 'Went out of our way to visit while camping in Cornwall and wished we hadn't bothered. The landmark has all the charm of a really bad service station, everything seemed overly commercialised and overpriced. We left after half an hour.'
London wouldn't come in for so much stick, eh? Wrong! Trafalgar Square's 'too noisy' and Leicester Square's 'hell on a stick. Bars rammed full of tourists and the square full of kids trying to nick fags off you.'
What about the prestigious British Museum? Well, for one reviewer it's 'coma inducing.' For another: 'We really tried to like the exhibits but it was just so utterly boring.'
And Scotland? Forget it! Ben Nevis is 'too steep and too high' and Loch Ness ('just a regular lake') is hardly worth the trip. 
TripAdvisor – by the people, for the people – is a site that encapsulates the internet conundrum. Its benefits to the paying public are obvious but its misuse can be devastating. Undoubtedly a useful tool, it's obviously only as good as the reviewers. Aim to get corroborating information from other travel sites… or, better still for this year's holidays, simply use your own judgement.
Nora Johnson's crime thrillers 'The Girl in the Red Dress,' 'No Way Back,' 'Landscape of Lies,' 'Retribution,' 'Soul Stealer,' 'The De Clerambault Code' (www.nora-johnson.net) from Amazon in paperback/ eBook (€0.99;£0.99) and iBookstore. All profits to Costa del Sol Cudeca charity.