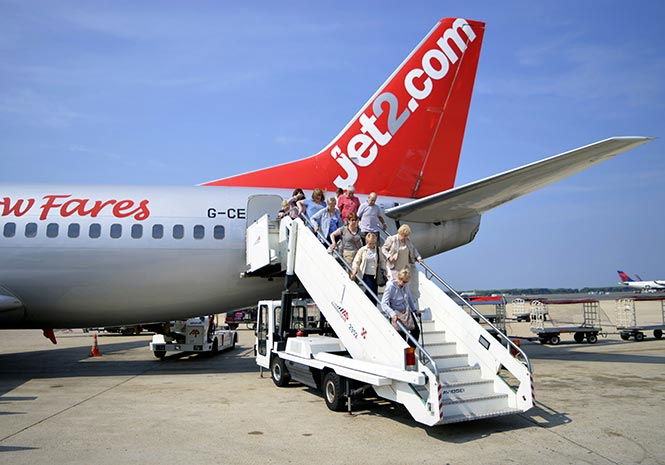 A BRITISH holidaymaker is to receive almost €11,500 after winning a four-year court battle against budget airline Jet2.
Nick Taylor, 43, took on the Leeds-based carrier after 36 passengers walked off a flight from the Costa del Sol to the UK in the wake of a security scare.
He was returning to Manchester from Malaga with his wife and young son when a fellow traveller started to behave oddly.
After demanding to enter the cockpit ahead of takeoff, the 'agitated' man snapped photos including selfies before breaking his mobile phone's SIM card, triggering fears of a terrorist attack.
The culprit was quizzed by police before being allowed to return, sparking outrage and leading Nick and 35 others to abandon the aircraft.
But after he forked out €850 for new flights the following day, the low-cost travel firm refused to cover the costs, so 22 of those affected got together to launch a legal case.
Nick, who hails from Blackburn in Lancashire, represented the claimants at Burnley County Court, where a judge has now ruled that Jet2 must pay compensation.
Nick told The Sun: "These big firms think normal people like me don't have what it takes to see it through.
"But it just goes to show justice can be served if you keep at it and don't give up.
"We just wanted the company – who treated us like morons – to take us seriously.
"We were just normal people just trying to get our money back – and it's paid off."
He said of his decision to disembark from the plane: "It was very unsettling as we thought that our lives would be in danger if we flew with that man still on board.
"There was absolute chaos around us – children crying, people shouting and scuffling.
"Obviously we were thinking it could be some sort of terrorism issue.
"And an air hostess was crying and in distress, which didn't exactly reassure us.
"I couldn't help but think if the professionals are scared for their lives and not happy with that idiot remaining on the plane, then why on earth should we risk it for the sake of around £1,000? So we decided to get off."