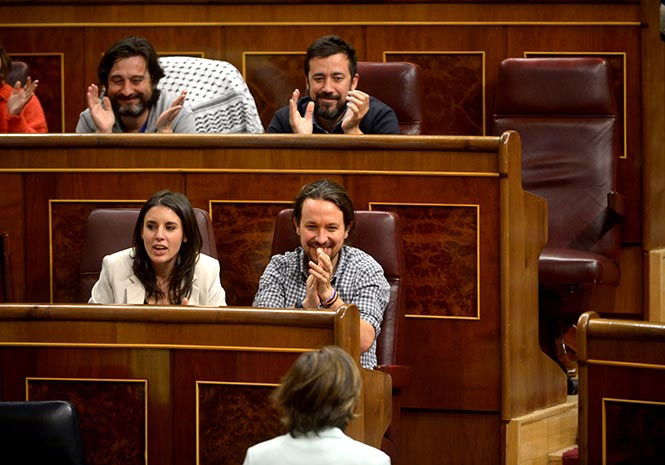 THE head of the far left Podemos party and his partner have both received a majority of members' votes in a poll on their positions.
Pablo Iglesias and Irene Montero called a confidence motion on their place in their posts as leader and spokesperson respectively after being criticised for buying a €600,000 villa near Madrid.
A total of 68.4 per cent of Podemos members voted to keep the couple in their positions in the online poll. Almost 190,000 people cast a ballot in the vote.
Members were asked: 'Do you think Pablo Iglesias and Irene Montero should continue as party leader and party spokesperson?'
Iglesias previously said on Twitter those in Podemos were undertaking true political participation by taking part in the poll.
"When the credibility of a political leader is questioned, his duty is to make his position available to the people who elected him," he wrote.
Cuando se cuestiona la credibilidad de un dirigente político, su deber es poner su cargo a disposición de la gente que lo eligió. Los inscritos e inscritas de Podemos van a dar una lección de lo que significa la verdadera participación política hasta sus últimas consecuencias. pic.twitter.com/qqG65sy7EW

— Pablo Iglesias (@Pablo_Iglesias_) 23 May 2018
The vote followed Iglesias and Montero's purchase of the €600,000 property in the town of Galapagar northwest of Madrid.
The Podemos leader had previously levelled criticism at other Spanish politicians for buying similarity priced homes.
A video from 2015 also resurfaced online after the purchase came to light of Iglesias criticising politicians who "isolate" themselves in their homes.
Montero wrote on Facebook before the no confidence vote that the couple's salaries as public servants meant they could afford the house.
"We know that many Spanish families cannot afford a mortgage like this and that is why we understand it is so important to defend decent wages for everyone," she said.