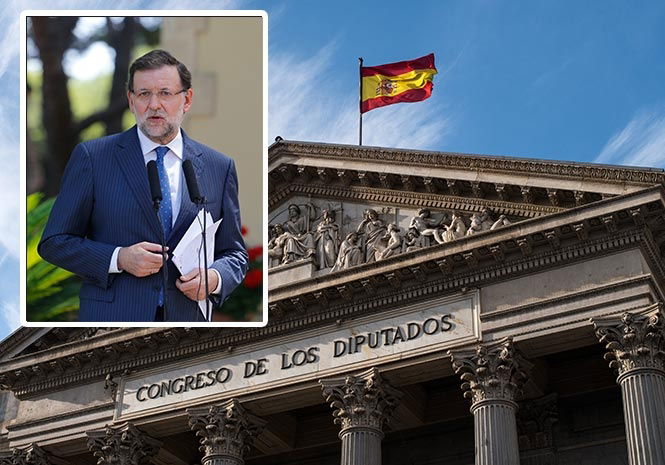 THE centrist Ciudadanos party has demanded that Mariano Rajoy's government hold national elections early as the Prime Minister faced the introduction of a no confidence motion today.
The call comes as the main opposition party, the left-leaning Partido Socialista (PSOE), said they had presented the motion in the Spanish parliament following a meeting this morning. Senior party members were discussing how to go forward in the wake of the Gurtel corruption scandal.
The probe saw Rajoy's ruling conservative Partido Popular (PP) slapped with a more than €245,000 fine after Spain's High Court ruled it profited from contract kickbacks between 1999 and 2006.
Rajoy said in a television interview yesterday that any case of corruption is "regrettable" and that understanding and dialogue would be needed going forward. 
He said today the motion was bad for all Spaniards and that it would harm the country's economy, with it coming soon after the passage of the national budget.
"The motion is for the sole interest of Mr Sanchez and his place in Spanish politics. It is for him to become the leader of the govenment at the price of anyone and anything," he said.
La inmensa mayoría de los políticos trabaja con honestidad y vocación de servicio público. Aún así, es lamentable cualquier caso de corrupción. En España hemos tomado numerosas medidas y ahora contamos con una legislación más exigente. #RajoyEnCope pic.twitter.com/syeBAilV2c

— Mariano Rajoy Brey (@marianorajoy) May 24, 2018
Albert Rivera, the leader of Ciudadanos, wrote on Twitter his party supported a "democratic solution" which would come either from elections or a motion of censure (no confidence).
"We need a clean and strong government. The future is decided by the Spaniards," he said.
La condena por corrupción al Gobierno ha liquidado la legislatura. Necesitamos un gobierno limpio y fuerte que afronte el desafío separatista. Apoyamos la solución democrática: o convoca elecciones Rajoy o el Congreso con moción instrumental. El futuro lo deciden los españoles.

— Albert Rivera (@Albert_Rivera) May 25, 2018
Pedro Sanchez, the leader of the PSOE, said earlier today he had given the order for his party to lodge the motion in the Congress of Deputies, the lower house of parliament.
En directo, declaración tras la reunión de la Comisión Ejecutiva Federal. https://t.co/g3FtCxepUo

— Pedro Sánchez (@sanchezcastejon) May 25, 2018
The PSOE's version of the motion puts  Sanchez forward as a candidate for the premiership, which would see him unseat Rajoy if it is passed by a majority of lawmakers.
The party reportedly has the support of the far-left Podemos party, who issued their own call for a motion of no confidence earlier this week.
Ciudadanos, who currently backs the minority PP government on key votes in Parliament, have ruled out supporting the PSOE's motion. Their backing is a deciding factor in tipping the balance in favour of it passing.
The party's General Secretary Jose Manuel Villegas said they had instead demanded Rajoy call early elections.
Under the Spanish Constitution's Article 115 this would be impossible if a motion of no confidence were active.