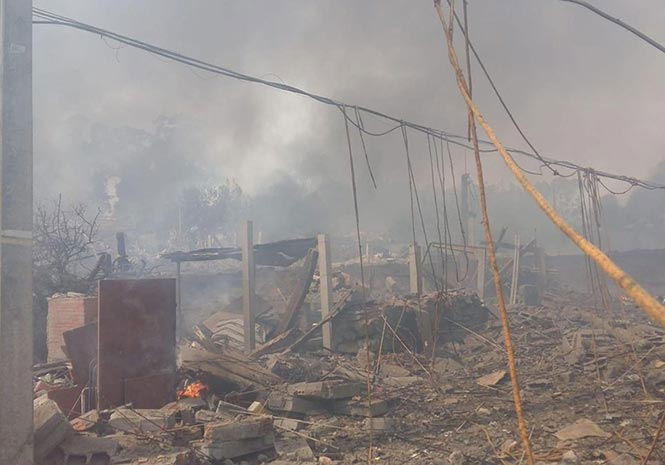 TWO people have been killed and at least 30 injured after a house illegally packed with fireworks exploded in northern Spain.
The huge blast on a residential estate in Paramos, Tui, near Pontevedra in Galicia, destroyed or damaged dozens of surrounding homes.
It triggered a shockwave which smashed windows across an 800-metre radius, with flames sending a giant plume of toxic white smoke into the air.
Seven children are among those hurt, medics confirmed, and conflicting reports suggest that three others may have died, while 200 residents have been evacuated to a nearby sports centre.
"We thought it was the end of the world, everything was burning," said one shell-shocked resident.
Another added: "The house fell in on us and the flames shot through the door."
At least one man is missing as firefighters and police officers with rescue dogs continue to scour the debris, while the Red Cross have erected a tent to serve as a field hospital for up to 50 people.
The owner of the property, named locally as Francisco R, has been charged with reckless homicide and remanded in custody.
Vice President of the regional Xunta de Galicia, Alfonso Rueda, has travelled to the scene and said in an interview that several wildfires sparked by the blast were under control.
Prime Minister Mariano Rajoy spoke with regional president Alberto Nuñez Feijoo before giving a televised speech during which he expressed "solidarity for the sad events that have happened in Tui," adding that "the Government of Spain is at the disposal of Galicia for anything it needs."
And former Tui mayor Enrique Cabaleiro told Spanish media that the fireworks were previously stored in an unlicensed warehouse registered to a company called La Gallega in nearby Baldrans, which he shut down "years ago."
The court order he signed came in the wake of earlier explosions at the firm's facilities in 1980 and 2005.
He added: "It appears the boss moved the fireworks to the ground floor of a relative's home after the facility was closed."
Explosión pirotecnia Tui, desde una gasolinera del municipio #tui #pirotecnia pic.twitter.com/PA2FXuuVud

— el druida (@eldruidanet) May 23, 2018
[iframe src="https://players.brightcove.net/2549849244001/ByCqjVZw_default/index.html?videoId=5788855177001″ frameborder="0″ allowfullscreen="allowfullscreen" ]
La Voz de Galicia