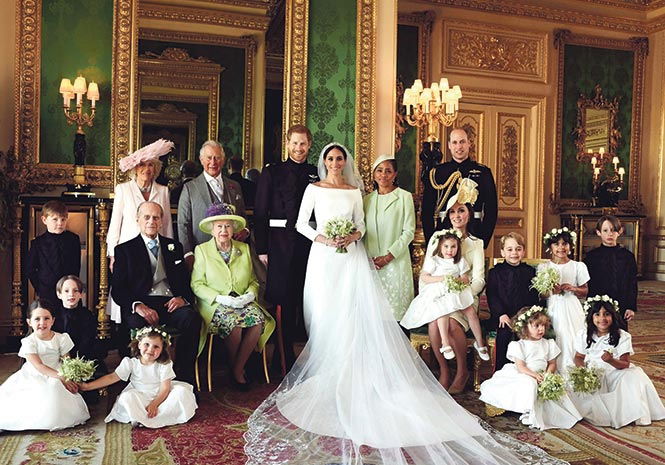 I PROMISE not to dwell on the numbers, but it seems a lot of us tuned in to watch the BBC and ITV coverage of the Royal Wedding last week. 
I was in a take it or leave it place right up until Harry and William arrived at the Chapel, but once they did, those flags from last week came out and we raised a glass or two watching the sunshine in Windsor. 
I really don't understand the swipes about the dress not fitting properly or Fergie arriving with only one glove. I do understand two people in love and thought it was lovely. Just a final wedding thought, the gift bags given to people invited to be in the castle grounds selling for £20K at an online auction, really… 
The second offering of The Handmaid's Tale started on Channel 4 on Sunday and it wasn't an easy watch. Series one was framed around the novel of the same name by Margaret Atwood. The story is set in a future society where women are forced to have children for a ruling class who are anything but Christian, despite what they might profess. 
Elizabeth Moss is back playing the lead amongst a cast of stellar performers for season two. The first episode showed us more of how we arrived at the present, with a series of flashbacks which are adding even more depth to the storyline, even if some of the lines are uncomfortable to hear. Ann Dowd returns as Aunt Lydia and if the opener this time around is anything to go by, will give Elizabeth a run for her money in the acting stakes. 
Praise hasn't been universal and if you haven't seen season one, you might want to find it on catch up before you delve in, but as dark as it is, I will be watching this time around just as intensely as I did for season one. 
If you did see the first episode last week, could you help me with a couple of (literally) burning questions – firstly, when Offred burned her clothes and her hair in that disused factory, just how long did they keep burning? It seemed an age, and second, did you realise Joseph Fiennes plays Commander Waterford? I missed that one, too focused on the burning red dress.  
A very English Scandal started a three part run on BBC1, Sunday and charts the rise and fall of Jeremy Thorpe in the 60's and 70's. Hugh Grant plays Jeremy and Ben Whishaw is Norman Scott. We probably all know the story and how it pans out, but Hugh Grant's acting is the stuff of BAFTAs and Ben should be on the awards radar too. Amongst the serious story line there is some humour, delivered expertly. You can catch the first episode on BBC iPlayer now. 
Looking ahead, BBC2 has extensive cover of the Chelsea Flower Show this week; for an easy to watch movie, Identity Thief is the Saturday night Film on Channel 4 and Bradley Walsh shows us some backstage secrets from The London Palladium this weekend (Sunday evening, ITV).
Happy viewing!