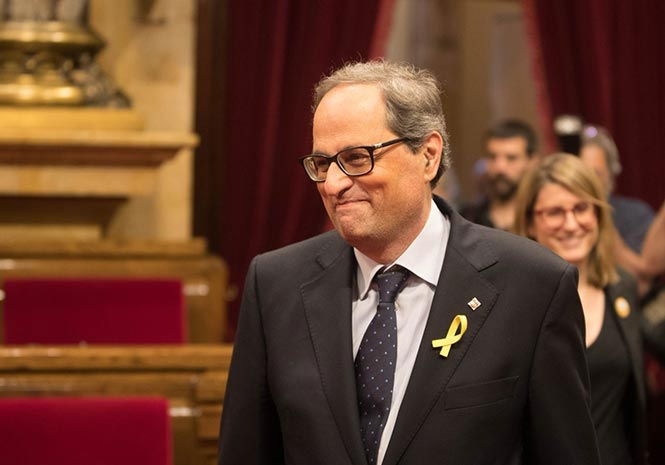 THE Spanish government has said it will continue to maintain direct rule in Cataluña in response to new President Quim Torra's appointment of pro-independence politicians to his cabinet.
Madrid said the appointments, which included two officials who are currently in custody awaiting trial for their part in last year's independence push, were a "provocation".
Jordi Turull and Josep Rull were remanded in custody earlier this year. The appointments of Toni Comin and Lluis Puig, who remain abroad and wanted by Spanish authorities for their part in Cataluña's bid for secession last year, were also blocked.
Torra responded by saying he had the authority to appoint officials to his cabinet and government and that he hoped the government would recognise that. He has reportedly asked Spanish Prime Minister Mariano Rajoy for dialogue on the issue.
Spain's government has blocked the publication of the appointments in the Official Gazette of the Generalitat of Cataluña. The appointments must be published in the Gazette to become official.
The government said another decree, which was signed by Torra and outlined areas of responsibility for his new government, did not raise "viability problems" and that it has been published.
Madrid added it would continue to maintain Article 155 in the region, the legal mechanism used to run the region from the Spanish capital.
The governing conservative Partido Popular (PP) has been backed by the two opposition unionist parties the left leaning Partido Socialista (PSOE) and the centrist Ciudadanos in the move.
Separately, Torra has announced he will travel to Madrid to visit Turull and Rull in custody today.