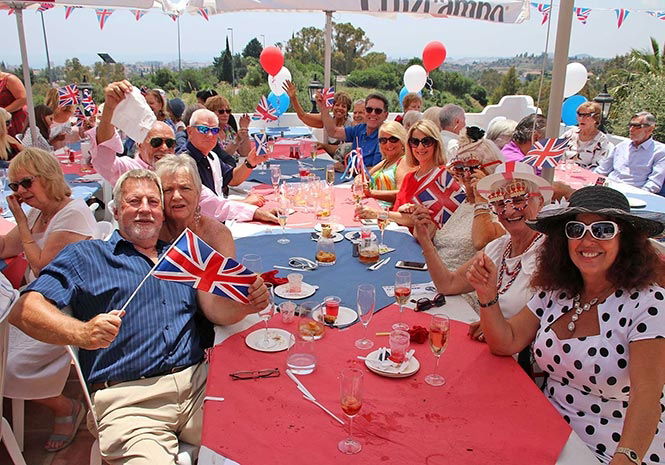 THE EWN Media Group Royal Wedding party was a resounding success.
Sponsored by Currencies Direct in conjunction with media partner Spectrum FM, and featuring entertainment by Antony Wolfsson and One Wish Steve, the bash at the stunning Villalinda eatery in Mijas exceeded all expectations.
Words of thanks from those lucky enough to attend the celebration have been flooding in, after all agreed it was a cracking day out.
It came after EWN staff worked tirelessly in the days leading up to the event, with many helping to ready the venue in the final hours.
The idea for the party was sparked after publishers Michel and Steven Euesden were honoured to receive an invitation British Embassy's garden party in Madrid, and culminated in around 200 revellers enjoying the street party-style atmosphere and a superb light lunch as they watched Harry and Meghan tie the knot.
Simon Manley, Britain's ambassador to Spain, recorded a special video message which was broadcast on the day, while the raffle saw a range of prizes donated by our wonderful clients snapped up.
Nicole King of Marbella Now TV even turned up with a film crew to record the festivities for a future show, before presenting Michel with a special award honouring her long-standing contribution to the Costa del Sol's expatriate community.
It will live long in the memory. 
Thanks to just some of those that helped:
Restaurant Villalinda
Currencies Direct
Antony Wolfson
One Wish Steve
Nicole King
Iceland
Calvin's Hairdresser
Bunches Florist
Asia Bing
Don Alfonso Restaurant
La Parra
Cardland
Scroll down to see some more snaps of the event.