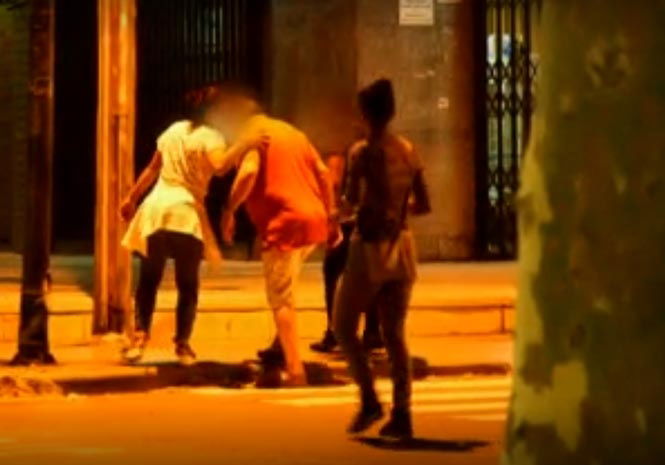 BRITISH holidaymakers in Mallorca are being enticed by gangs of prostitutes offering cheap sex before being robbed at knife point.
The women are described as 'mostly foreign' and are believed to be singling out drunk revellers as they head back to their hotels after partying in Magaluf.
And reports suggest the gangs are luring the victims with promises of sex for €10 before they are led down dark alleyways and held up after being surrounded.
An unidentified Scottish teen alleges that he had €500 stolen, as he told UK media: "I was so drunk I didn't really know what I was doing.
"They grabbed my arm and led me down this alleyway.
"Once I was there a few of them appeared and robbed me blind."
A 24-year-old holiday rep added: "It's like running the gauntlet back to your hotel now – all the women wait at the end of the strip to pick people off.
"They're increasingly aggressive and don't take no for an answer."
Dad-of-two Michael Taylor, 28, was last year approached by a group of African women before being stabbed in the leg and knocked unconscious.
He woke up in hospital with eight stitches to find that his mobile phone and €200 in cash were missing.
He said at the time: "Ten African women came out from behind some trees.
"They were trying to get me to pay for sex.
"When I refused one of them stuck a knife in my thigh. They were stronger than men and remorseless. It was terrifying."
A volunteer from charity Street Angels, a Christian organisation set up to help people in trouble on nights out, three years ago told told the Belfast Telegraph: "There are a lot of muggings that go on in Magaluf but it's usually African women who prey on drunk male tourists.
"There can be quite a lot of them and they just loiter around waiting for boys on their own and then they link arms with them and pretend they are helping them back to their hotel or whatever before mugging them."