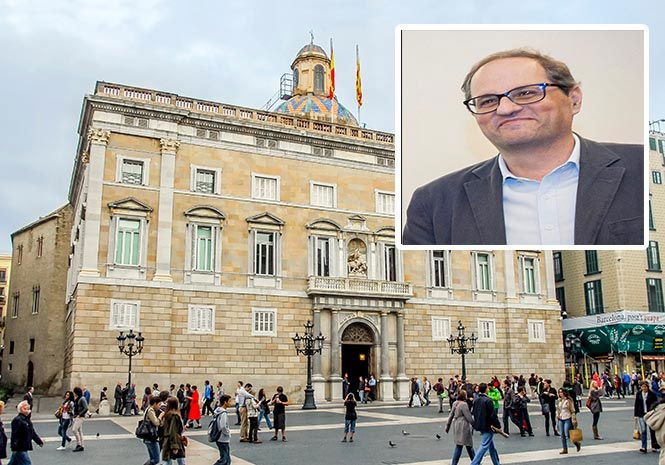 CATALUÑA'S 131st President is set to formally begin his first day in the post following an inauguration ceremony today.
Quim Torra, of the separatist Junts per Catalunya party (JxCat), will be invested into the office at what will reportedly be a low-key ceremony.
It will take place at the Palau de la Generalitat in Barcelona, which houses the presidency's administrative offices.
Torra said he wanted the ceremony to reflect a situation of "exceptionality and sadness." This is due to number of former Catalan politicians currently in custody and abroad in the wake of last year's independence push, he added.
The new president will also be exempt from swearing allegiance to the Spanish King and Constitution, using a legal loophole his predecessor Carles Puigdemont (JxCat) also found when taking office. He will instead reportedly take an oath to serve the "will of the people of Cataluña."
The ceremony will also have to depart from another tradition of giving the previous office holder the presidential medal.
Puigdemont is currently in Germany awaiting a court decision on whether he will be extradited to Spain to face charges in connection with last year's independence referendum and declaration.
Torra travelled to Berlin to hold a joint press conference with Puigdemont on Tuesday. He said on Twitter the two had spoke about plans for the new administration and offering the Spanish government "unconditional and bilateral dialogue" on the Cataluña independence question.
Feliç de retrobar-me avui amb el president @KRLS a Berlín, amb qui hem traçat les línies d'acció del nou executiu i hem ofert al Govern espanyol diàleg sense condicions i bilateral, com a primer pas per a recuperar la democràcia pic.twitter.com/FYI26l2TuW

— Quim Torra i Pla (@QuimTorraiPla) May 15, 2018
The new Catalan President was selected by the region's Parliament for the post by a margin of one vote.
He said after his victory in the ballot his administration would work in the interests of all Catalans.
"We do not want a uniform Cataluña, but one united in diversity. It should be a republic of all rights, where all enjoy the fullness of rights," he said.
Mariano Rajoy, Spain's Prime Minister and leader of the conservative Partido Popular, said he hoped for "understanding and concord" with the new President. He added in reference to jailed and wanted Catalan politicians that he must comply with the law.