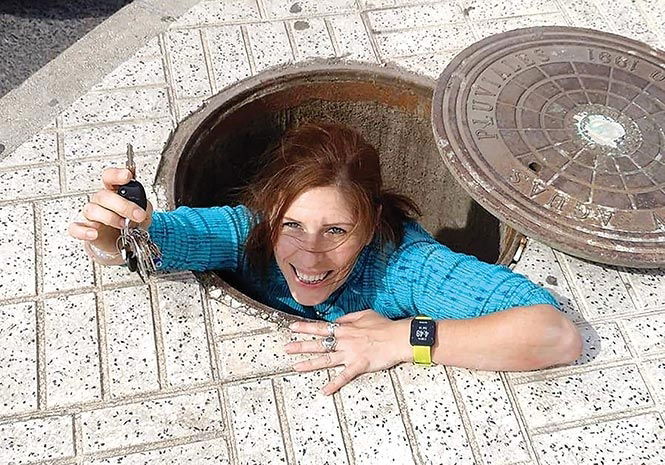 A BRITISH expatriate teacher has been hailed for her fighting spirit after refusing to give up on her lost car key.
Mum-of-two Michelle Corin, 42, who has lived in Altea for most of her 18 years in Spain, had been out for a day on the beach and made a stop in Albir on her way home.
But as she secured the seatbelts of four-year-old daughter, Sianna Rose and son, Keyen, 11, her only key slid out of the car and down a nearby drain.
Speaking exclusively to the Euro Weekly News, Devon-born Michelle said:
"My original key snapped in the ignition a few months ago and it was a nightmare to get a new one from the States as I drive an old Chevrolet.
"It cost me €600 to replace, so I really didn't want to lose the new one!"
And her plight soon drew the attention of local bar and shop-owners, one of who called the police.
"They weren't taking me too seriously but eventually attached a magnet to some rope before one of them lifted up a manhole cover and climbed down, but he refused to go into the tunnel under the road," Michelle said. "Then it started raining so I plugged the drain with plastic bags and called the fire brigade."
But two firefighters were unable to help and told her the keys had been washed into the sea after it started to rain.
"After three hours I got a lift home very upset and thought right, I'm going to get those keys back!" she smiled.
And the next morning she returned, lifting up the manhole cover with her bare hands and again attracting a crowd before leaping into the abyss with a torch between her teeth.
She said: "I potholed through the disgusting slime and after a few minutes saw the keys wedged behind a lump of tarmac, I was so relieved and happy despite the cuts and bruises."
A friend added: "Michelle is amazing, what a warrior!"